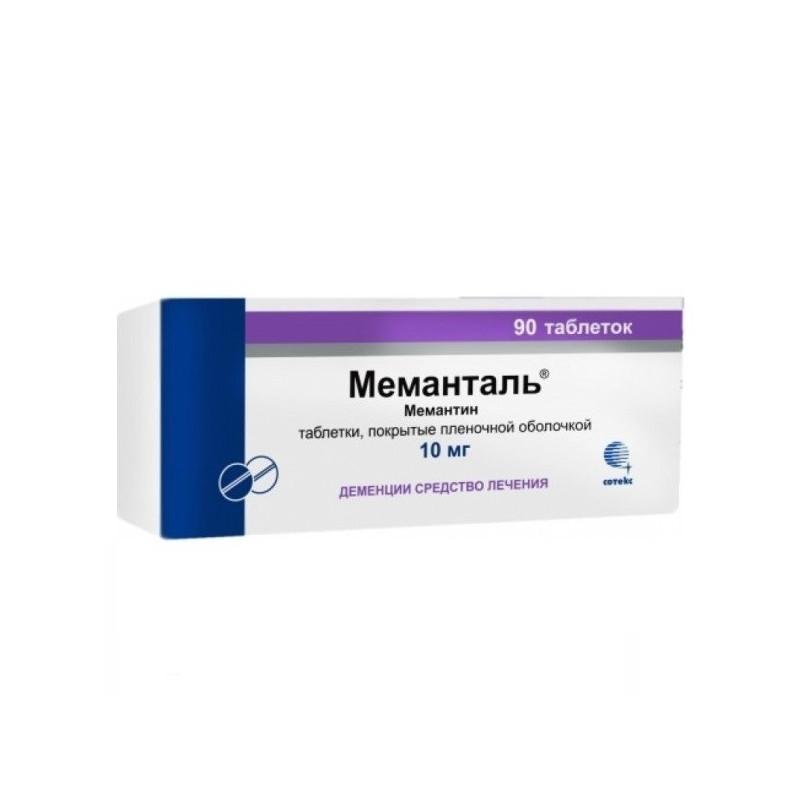  
Memantale pills coated 10 mg №90
All payments are encrypted via SSL

Full Refund if you haven't received your order
Memantin

Adamantane derivative, by chemical structure and pharmacological properties similar to amantadine.
Mechanism of action
pharmachologic effect - cerebrovasodilating, psychostimulating, antihypoxic, nootropic.
It has nootropic, cerebrovasodilating, antihypoxic and psychostimulating action. Blocks glutamate N-methyl-D-aspartate receptors (NMDA-receptors), including in the substantia nigra, thereby reducing the excessive stimulating effect of cortical glutamate neurons on the neostriatum, which develops against the background of insufficient release of dopamine. Reducing the flow of ionized Calcium into neurons, reduces the possibility of their destruction. Mostly affects stiffness (rigidity and bradykinesia). Improves weakened memory, concentration, reduces fatigue and symptoms of depression, spasticity caused by diseases and injuries of the brain.
After oral administration, Memantine is rapidly and completely absorbed from the gastrointestinal tract. Tmax in blood plasma - 2–6 hours. With normal kidney function, cumulation of memantine is not observed. Withdrawal proceeds in two phases. T1/2 on average, in phase 1, it is 4–9 hours; in phase 2, it is 40–65 hours.About 80% of memantine is excreted unchanged. Metabolites do not possess their own pharmacological activity. Excreted in the urine. With alkaline urine, excretion slows down.
Indications and usage
Dementia is moderate to severe in Alzheimer's disease.
Contraindications
hypersensitivity to the drug;
severe renal impairment (Cl creatinine <5-29 ml / min);
severe liver failure;
lactose intolerance, Lappa lactase deficiency or glucose-galactose malabsorption (the product contains lactose monohydrate);
pregnancy;
breast-feeding;
children's age up to 18 years (efficiency and safety are not established).
Carefully: thyrotoxicosis; epilepsy; convulsions (including in history); simultaneous use of other NMDA receptor antagonists (amantadine, ketamine, dextromethorphan); the presence of factors that increase the pH of urine (abrupt change of diet, receiving large quantities of alkaline gastric buffers); severe urinary tract infections; history of myocardial infarction; heart failure III – IV functional class (according to the NYHA classification); uncontrolled arterial hypertension; renal and hepatic failure.
Pregnancy and Breastfeeding
No data on the use of memantine in pregnant women. Memantine should be used only when the expected benefit to the mother outweighs the potential risk to the fetus.
There is no data on the penetration of memantine into breast milk. Taking into account the lipophilic structure of the active substance of the drug, it can be assumed that memantine can penetrate into breast milk, and therefore it is recommended to stop breastfeeding while taking the drug.
Adverse reactions
The incidence of undesirable reactions was classified as follows: very often - ≥1 / 10; often - ≥1 / 100, <1/10; infrequently - ≥1 / 1000, <1/100; rarely - ≥1 / 10000, <1/1000; very rarely - <1/10000; frequency not established (currently, there are no data on the prevalence of adverse reactions).
From the side of the central nervous system: often - headache, drowsiness, dizziness; rarely - confusion, hallucinations (mainly in patients with Alzheimer's disease at the stage of severe dementia), gait disturbance; very rarely - seizures; frequency not established - psychotic reactions.
Gastrointestinal: often - constipation; rarely - nausea, vomiting; frequency is not installed - pancreatitis.
From the CCC: rarely, arterial hypertension, venous thrombosis / thromboembolism.
Other: rarely - fatigue, fungal infections.
There are separate reports of the occurrence of these adverse reactions when memantine is used in clinical practice: dizziness, drowsiness, anxiety, fatigue, anxiety, increased ICP, nausea, hallucinations, headache, impaired consciousness, muscle tone, gait disturbances, depression,convulsions, psychotic reactions, suicidal thoughts, constipation, nausea, pancreatitis, candidiasis, increased blood pressure, vomiting, cystitis, increased libido, venous thrombosis, thromboembolism, allergic reactions.
Drug interactions
Enhances the effect of levodopa preparations, dopamine receptor antagonists, m-holinoblokatorov.
Reduces the effect of barbiturates and neuroleptics.
Changes (strengthens or reduces) the effect of dantrolene or Baclofen, so the doses of drugs should be selected individually.
Concurrent use with amantadine, ketamine, phenytoin and dextromethorphan should be avoided due to the increased risk of developing psychosis.
An increase in plasma concentrations of cimetidine, Ranitidine, procainamide, quinidine, quinine and nicotine is possible.
Decrease in level of a hydrochlorothiazide is possible. Memantine is able to increase the excretion of hydrochlorothiazide.
Perhaps an increase in MHO in patients taking oral anticoagulants (warfarin).
Simultaneous use with antidepressants, SSRIs and MAO inhibitors requires careful monitoring of patients.
Dosage and administration
Inside Once a day, at the same time, regardless of the meal.
Dosing regimen set individually. It is recommended to begin treatment with the appointment of the minimum effective dose. Prescribe the drug during the 1st week of therapy (days 1-7) at a dose of 5 mg / day, during the 2nd week (days 8-14) - at a dose of 10 mg / day, during the 3rd week (days 15-21) - at a dose of 15 mg / day, during the 4th week (days 22-28) - at a dose of 20 mg / day. The maximum daily dose of 20 mg.
Special patient groups
Patients older than 65 years, as well as in patients with creatinine Cl 50–80 ml / min, do not require dose adjustment. In patients with moderate renal insufficiency (Cl creatinine 30–49 ml / min), the daily dose is 10 mg. In the future, with good tolerability of the drug for 7 weeks, the dose can be increased to 20 mg according to the standard scheme.
Instructions for dividing the tablet
Place the pill with the rounded side face down on a hard surface. Press the index and thumb of one hand on opposite sides of the tablet, continue to apply pressure with your fingers until the pill breaks into 2 pieces.

Overdosage
Symptoms: dizziness, tremor, agitation, drowsiness, confusion, agitation, stupor, convulsions, psychosis, aggressiveness, hallucinations, vomiting, unsteady gait, diarrhea.
Treatment: gastric lavage, the appointment of Activated carbon, symptomatic therapy. The specific antidote of the drug does not exist.
Special notes
Influence on ability to drive vehicles and work with mechanisms. Patients with Alzheimer's disease at the stage of moderate or severe dementia usually have impaired ability to drive vehicles and control complex mechanisms. In addition, memantine can cause a change in the reaction rate, so patients should refrain from driving or working with complex mechanisms.
Tablets, film coated, 10 mg. In aluminum / PVC blister pack of 10 or 14 pcs. 3, 6, 9 and 10 blisters of 10 tab. or 2 and 8 blisters of 14 tab. in a carton box.