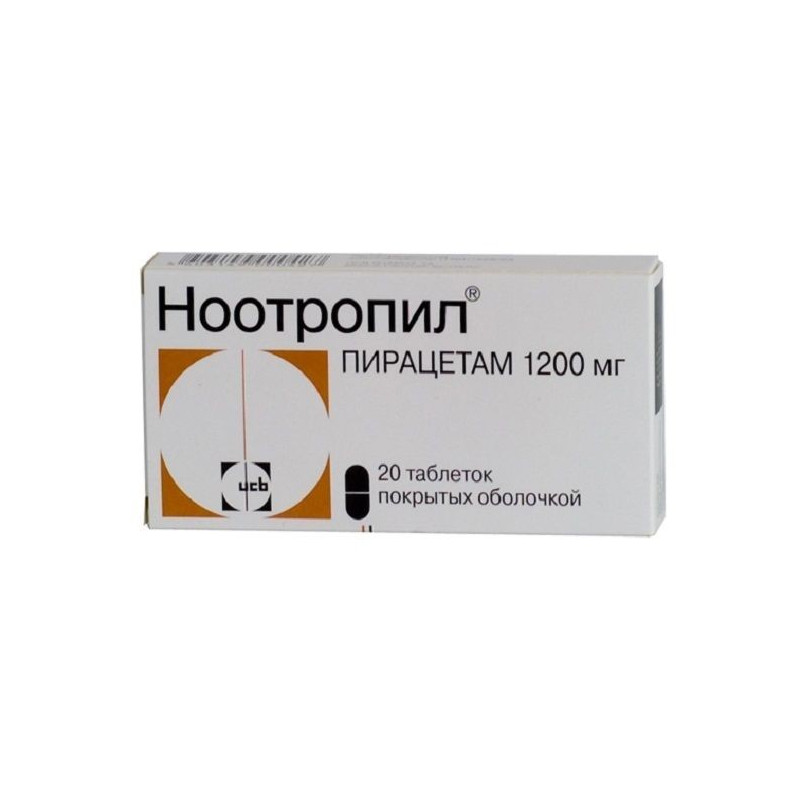  
Nootropil pills 1200mg №20
All payments are encrypted via SSL

Full Refund if you haven't received your order
Indications and usage
 
- symptomatic treatment of psychoorganic syndrome (including in elderly patients with memory loss, dizziness, decreased ability to concentrate, mood changes, behavior disorder, gait disturbance, as well as in patients with Alzheimer's disease and Alzheimer's senile dementia);
- treatment of the consequences of ischemic stroke, such as speech disorders, disorders of the emotional sphere, to increase motor and mental activity;
- for the treatment of withdrawal syndrome and psychoorganic syndrome in chronic alcoholism;
- coma (and during the recovery period), incl. after injuries and intoxications of the brain;
- for the treatment of dizziness and related balance disorders (with the exception of cases of dizziness of vasomotor and psychogenic origin);
- as part of complex therapy of low learning in children with psychoorganic syndrome;
- treatment of cortical myoclonia (both as monotherapy and as part of combination therapy);
- sickle cell anemia (as part of combination therapy).
Dosage and administration
Daily doses vary in the range of 30-160 mg / kg body weight. Frequency of admission 2-4 times / day.
In the treatment of chronic psychoorganic syndrome prescribe the drug at a dose of 4.8 g / day for the first week, and then switch to a maintenance dose of 1.2-2.4 g / day.
In the treatment of the effects of ischemic stroke Nootropil should be prescribed in a dose of 4.8 g / day.
In the treatment of comatose conditions, as well as the difficulties of perception in persons with brain injuries The initial dose is 9-12 g / day, supporting - 2.4 g / day. Treatment should be continued for at least 3 weeks.
With abstinence in chronic alcoholism the dose of the drug reaches 12 g / day during the manifestation of alcohol withdrawal syndrome. Maintenance dose is 2.4 g / day.
When treating vertigo and related imbalances the dose is 2.4-4.8 g / day.
When the correction of reduced learning Nootropil prescribed in a daily dose of 3.3 g (approximately 8 ml of 20% solution for oral administration 2 times / day). Treatment must continue throughout the school year.
With cortical myoclonia Treatment begins with a dose of 7.2 g / day, every 3-4 days the dose is increased by 4.8 g / day until the maximum dose of 24 g / day is reached. Treatment with Nootropil continues throughout the entire period of the disease. Every 6 months, attempts should be made to reduce the dose or cancel the drug, gradually reducing the dose by 1.2 g / day every 2 days. If there is no effect or a slight therapeutic effect, treatment is stopped.
For sickle cell anemia The daily prophylactic dose is 160 mg / kg of body weight, divided into 4 doses. During the crisis - up to 300 mg / kg IV.This dose may be administered to children over the age of 1 year.
Inside the drug is administered during a meal or on an empty stomach; pills and capsules should be taken with liquid (water, juice). Parenteral prescribed in case of impossibility of oral administration, in the same daily dose.
When prescribing the drug patients with impaired renal function or elderly patientsin which CK can be lowered due to age-related changes, the dose should be corrected depending on the amount of creatinine clearance. At QC less than 80 ml / min You should calculate the dose of Nootropil in accordance with the table.
Renal failure
Creatinine clearance (ml / min)
Dosing regimen
norm
&>80
recommended dose
easy
79-50
2/3 doses 2-3 times / day
average
49-30
1/3 doses 2 times / day
heavy
29-20
1/6 dose 1 time / day
end stage
&