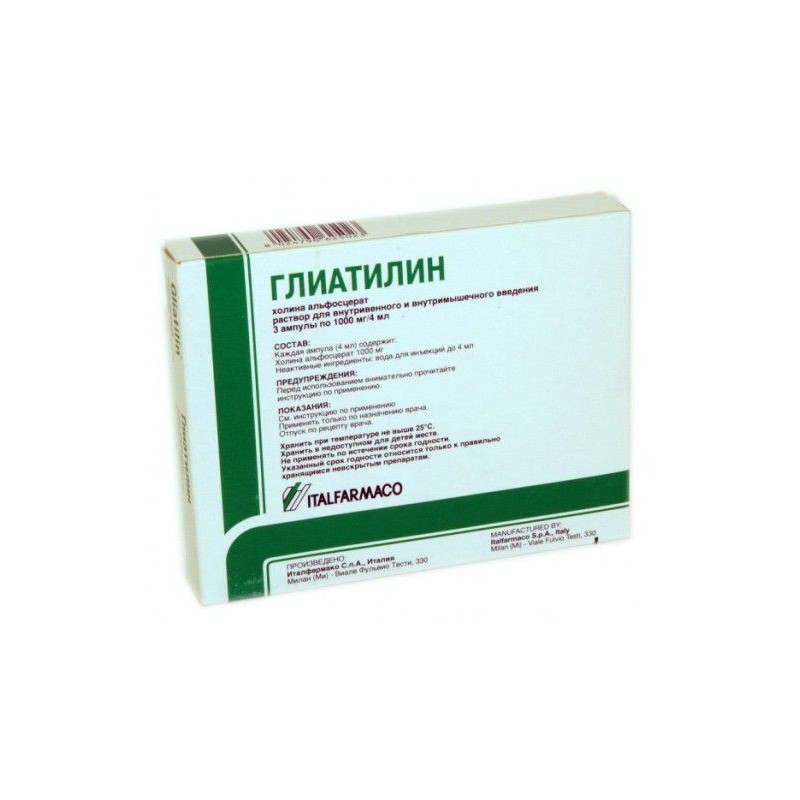  
Gliatilin ampoules 1000mg/4ml №3
All payments are encrypted via SSL

Full Refund if you haven't received your order
Indications
- The acute period of traumatic brain injury, mainly with stem lesions (including in case of impairment of consciousness, coma);
- disorders of cerebral circulation by ischemic type (acute and recovery period) and hemorrhagic type (recovery period);
- degenerative and involutional psychoorganic syndromes and consequences of cerebrovascular insufficiency, such as primary and secondary disorders of mnestic functions, characterized by impaired memory, confusion, disorientation, reduced motivation, initiative and ability to concentrate;
- changes in the emotional and behavioral sphere: emotional lability, increased irritability, loss of interest; senile pseudomelancholia;
- multi-infarction dementia.
Dosage and administration
Capsules are ingested before meals; the solution is injected into the / m or / drip.
At acute conditions in / m in a dose of 1 g (1 ampoule) per day or in / in - from 1 g to 3 g per day.
With the on / in the introduction of the contents of 1 ampoule (4 ml) diluted in 50 ml of saline; infusion rate - 60-80 drops / min. The duration of treatment is usually 10 days, but if necessary, treatment can be continued until positive dynamics and the possibility of switching to capsules can occur.
At chronic cerebrovascular insufficiency, changes in the emotional and behavioral sphere and multi-infarction dementia the drug is administered orally at 400 mg (1 capsule.) 3 times / day.
The duration of therapy is 3-6 months.
Adverse effects
Maybe: nausea (as a consequence of dopaminergic activation), allergic reactions.
As a rule, the drug is well tolerated even with prolonged use.
Contraindications
- hypersensitivity to the drug.
Use during pregnancy and lactation
The use of the drug during pregnancy and lactation (breastfeeding) is contraindicated.
Special notes
Influence on ability to drive motor transport and control mechanisms
Gliatilin does not affect the patient's ability to engage in potentially hazardous activities.
Overdosage
Symptoms: nausea. When this symptom occurs, it is recommended to reduce the dose of the drug.
Drug interaction
Drug interaction of the drug Gliatilin is not installed.
Terms and conditions of storage
List B. The drug should be kept out of the reach of children at a temperature not exceeding 25 ° C.