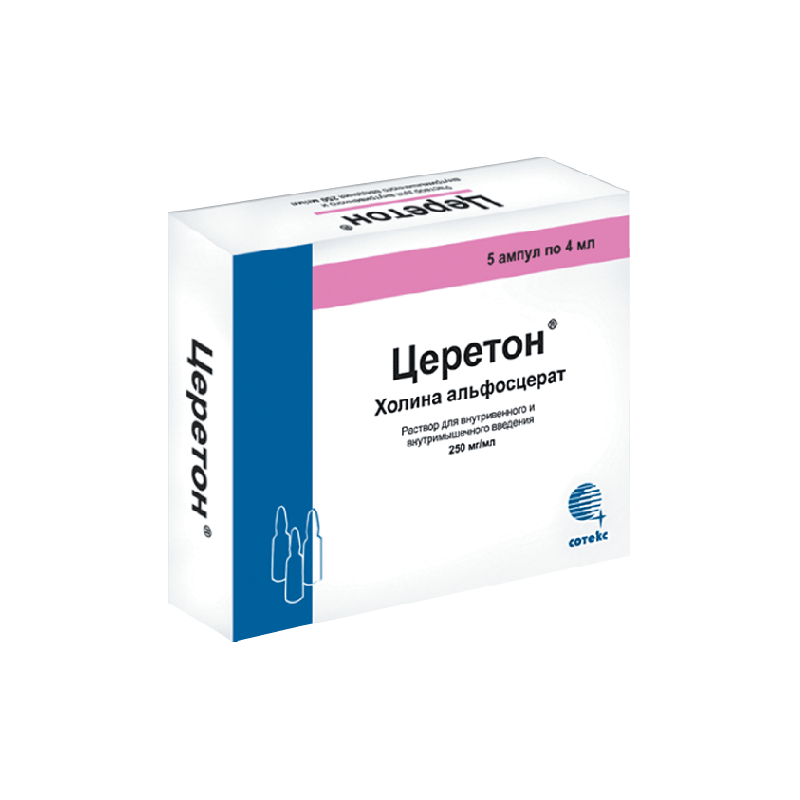  
Cereton ampoules 250mg/ml 4ml №5
All payments are encrypted via SSL

Full Refund if you haven't received your order
Active ingredient and dosage form
Cereton - solution for intravenous and intramuscular administration: 1 ml contains glycerylphosphorylcholine hydrate 250 mg, excipients: water for injection; in ampoules of 4 ml; in a pack of 3 or 5 ampoules;
Mechanism of action
Cereton has a nootropic effect.
Acute and recovery periods of severe head injury and ischemic stroke, recovery period of hemorrhagic stroke, occurring with focal hemispheric symptoms or symptoms of a brain stem lesion;
psychoorganic syndrome on the background of degenerative and involutional changes in the brain;
chronic cerebrovascular insufficiency;
cognitive disorders (mental function, memory, confusion, disorientation, reduced motivation, initiative and ability to concentrate), including with dementia and encephalopathy;
senile pseudomelancholia.
Contraindications
hypersensitivity;
pregnancy;
breast-feeding.
Adverse reactions
Allergic reactions, nausea (due to dopaminergic activation).
Dosage and administration
In case of acute conditions: Cereton is administered intramuscularly or intravenously (slowly), 1 g (1 amp.) Per day for 10-15 days.
Storage conditions
In the dark place at a temperature of 2-25 ° C. Shelf life - 2 years.