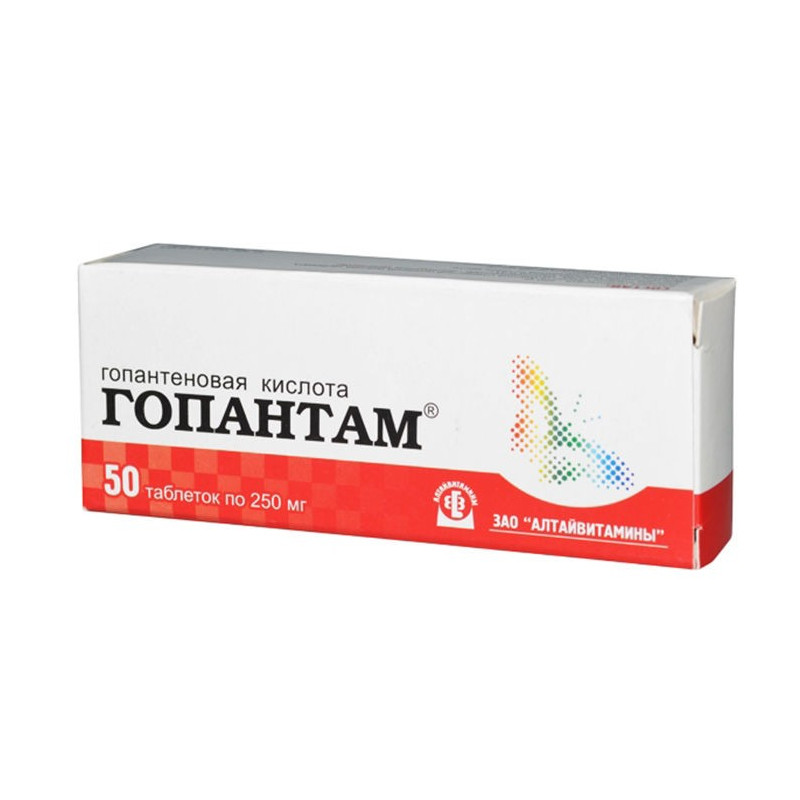  
Gopantam pills 250mg №50
All payments are encrypted via SSL

Full Refund if you haven't received your order
(Hopantam)
Composition
Gopantam tablets:
1 pill contains Calcium homopantothenate 0.25 and 0.5 g; 50 pieces per pack.
Mechanism of action
Nootropic, anticonvulsant. Gopantam has neurometabolic, neuroprotective and neurotrophic properties. Increases the resistance of the brain to hypoxia, stimulates anabolic processes in neurons, reduces motor excitability with simultaneous streamlining of behavior. Gopantam increases mental and physical performance, reduces the reaction to pain stimulation.
Indications and usage
cerebral insufficiency; hyperkinetic disorders; Jackson epilepsy; parkinsonism; tremor; neuroleptic syndrome; trigeminal neuralgia; In children: oligophrenia; delayed speech development; clonic form of stuttering; epilepsy; disorders of urination: urinary incontinence, enuresis.
Contraindications
Hypersensitivity.
Adverse reactions
Allergic reactions.
Dosage and administration
Gopantam taken orally, 15-30 minutes after a meal. A single dose for adults - 500-1000 mg, for children - 250-500 mg; daily dose for adults - 1500-3000 mg, for children with various pathologies of the nervous system - depending on age: - up to 1 year - 500-1000 mg / day; - 1-3 years - 1500-2000 mg / day; - 3 -15 years - 2500-3000 mg / day.
Storage conditions
The drug should be stored out of reach of children at a temperature not exceeding 25 ° C. Shelf life is 2 years.