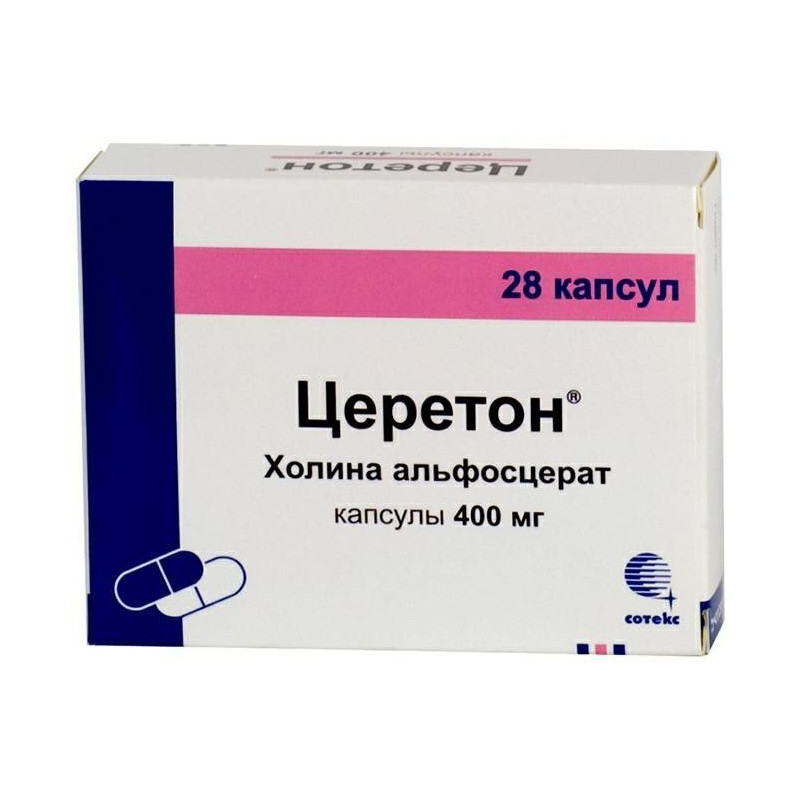  
Cereton capsules 400mg №28
All payments are encrypted via SSL

Full Refund if you haven't received your order
Capsules
Composition
1 caps contains choline alfoscerat (in terms of 100% substance) 400 mg;
Excipients: glycerol; purified water;
capsule composition: gelatin; sorbitol; glycerol; methyl parahydroxybenzoate; propyl parahydroxybenzoate; titanium dioxide; iron dye oxide yellow; purified water
Packing
28 pcs.
Mechanism of action
Cereton is a nootropic agent. Central holostimulyator, which contains 40.5% of metabolically protected choline. Metabolic protection contributes to the release of choline in the brain. It provides the synthesis of acetylcholine and phosphatidylcholine in neuronal membranes, improves blood flow and enhances metabolic processes in the central nervous system, activates the reticular formation. Increases linear blood flow rate on the side of traumatic brain damage, contributes to the normalization of the spatial and temporal characteristics of spontaneous bioelectric brain activity, regression of focal neurological symptoms and recovery of consciousness; It has a positive effect on the cognitive and behavioral reactions of patients with vascular diseases of the brain (dyscirculatory encephalopathy and residual cerebrovascular events). It has a preventive and corrective effect on the pathogenetic factors of involutional psychoorganic syndrome, changes the phospholipid composition of neuronal membranes and reduces cholinergic activity. Stimulates dose-dependent release of acetylcholine under physiological conditions; participating in the synthesis of phosphatidylcholine (membrane phospholipid), improves synaptic transmission, plasticity of neuronal membranes, receptor function. It does not affect the reproductive cycle and does not have a teratogenic, mutagenic effect.
acute and recovery periods of severe traumatic brain injury and ischemic stroke, recovery period of hemorrhagic stroke, occurring with focal hemispheric symptoms or symptoms of a brain stem lesion;
psychoorganic syndrome on the background of degenerative and involutional changes in the brain;
cognitive disorders (mental functions, memory, confusion, consciousness, disorientation, reduced motivation, initiative and ability to concentrate), including dementia and encephalopathy;
senile pseudomelancholia
Contraindications
hypersensitivity to the drug;
pregnancy;
breastfeeding period
Dosage and administration
In the recovery period of traumatic brain injury, ischemic or hemorrhagic stroke, Cereton is prescribed at 800 mg in the morning and 400 mg in the afternoon for 6 months. In chronic cerebrovascular insufficiency and dementia syndromes, Cereton is prescribed 400 mg (1 capsule) 3 times a day, preferably after meals, for 3-6 months.
Adverse reactions
Nausea may occur (mainly as a consequence of dopaminergic activation), in which case the dose of the drug is reduced.
Allergic reactions.
In the dark place at a temperature of no higher than 25 ° C.