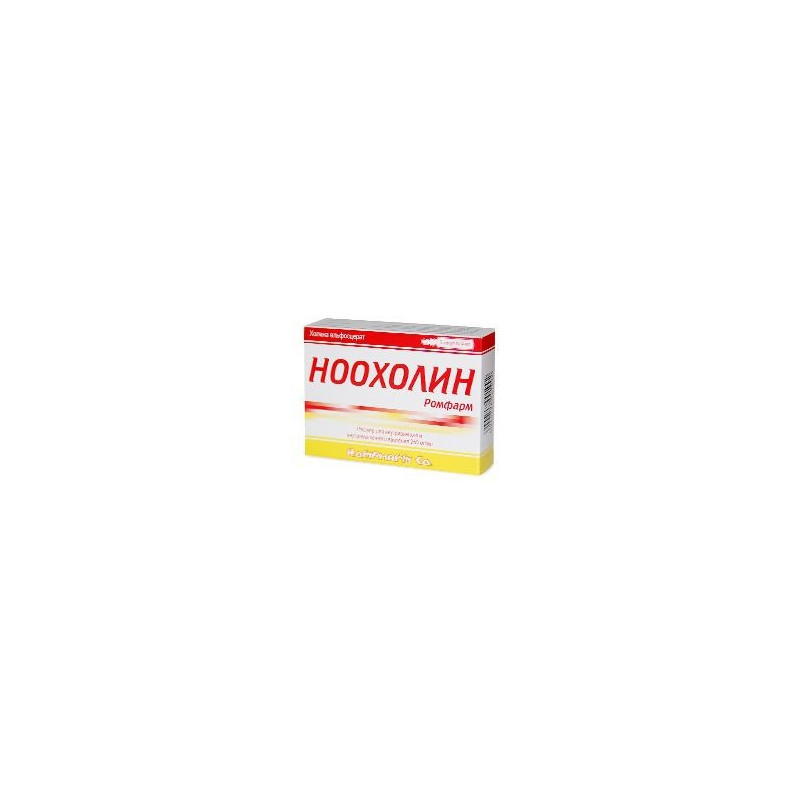  
Noocholine ampoules 250mg/ml 4ml №3
All payments are encrypted via SSL

Full Refund if you haven't received your order
Noocholine Rompharm, solution for intravenous and intramuscular administration.
Latin name: Nooholine Romfarm.
Active ingredient: Choline alfoscerate * (Choline alfoscerate *).
ATH: Choline alfoscerat.
Pharmacological group: Nootropics.
pharmachologic effect :
Cholinomimetic.
It is a precursor of acetylcholine. It has an effect mainly on cholinergic receptors in the CNS. Glycerophosphate, which is formed by the cleavage of choline alfoscerate, is a precursor of the phospholipids (phosphatidylcholine) of the neuron membrane. Facilitates the transmission of nerve impulses in cholinergic neurons, improves the plasticity of neuronal membranes and the function of receptors.
Indications :
- An acute period of traumatic brain injury with a predominantly stem lesion level, chronic cerebrovascular insufficiency (dyscirculatory encephalopathy); Syndrome of dementia of various genesis, including Alzheimer's disease;
- ischemic stroke (early and late recovery period);
—Horey Gottington;
- Old pseudomelancholy.
Dosing regimen:
In acute conditions: i / m or / in (slowly) 1 g / day.
Side effect:
Nausea is possible.
Contraindications:
Pregnancy, lactation, hypersensitivity to choline alfoscerate.
Special instructions:
If nausea occurs, the dose should be reduced.
Storage conditions:
List B.: At a temperature not higher than 25 ° C.