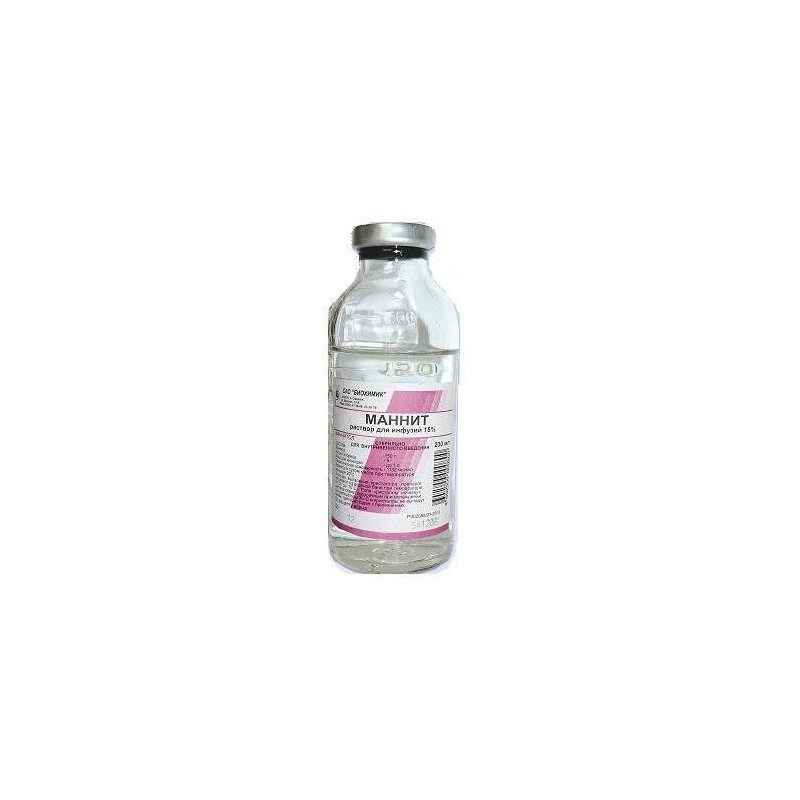  
Mannitol solution for infusions of 15% bottle 200ml
All payments are encrypted via SSL

Full Refund if you haven't received your order
Infusion solution 15%
Composition
1 ml contains mannitol 150 mg.
Bottle of 200 ml.
Mechanism of action
Mannitol has a diuretic, anti-edema effect.
Indications and usage
Cerebral edema, increased intracranial pressure in renal or renal-hepatic insufficiency, status epilepticus, acute glaucoma attack, extracorporeal circulation, acute renal (with preserved renal filtration function) and hepatic insufficiency, post-transfusion complications caused by incompatible blood, acute poisoning. and other substances (forced diuresis).
Contraindications
Hypersensitivity organic kidney damage, impaired renal filtration function, congestive heart failure, hemorrhagic stroke, subarachnoid hemorrhage (bleeding except during craniotomy), severe dehydration, hyponatremia, hypochloremia, hypokalemia, acute tubular necrosis, pregnancy, lactation.
Dosage and administration
Mannitol is administered in / in (slowly streamed or drip). The prophylactic dose is 500 mg / kg of body weight, therapeutic - 1-1.5 g / kg. The daily dose should not exceed 140-180 g.During operations with extracorporeal circulation, a dose of 20-40 g is administered immediately before the operation. Patients with oliguria should be previously introduced into / into a drip test dose of mannitol (200 mg / kg) for 3-5 minutes. If after this there is no increase in the diuresis rate to 30-50 ml / g for 2-3 hours, then it is necessary to refrain from further introduction of mannitol.
Adverse reactions
Dehydration (dry skin, dyspepsia, myasthenia, seizures, dry mouth, thirst, hallucinations, decreased blood pressure), electrolyte imbalance, tachycardia, pain behind the sternum, thrombophlebitis, skin rash.
For left ventricular insufficiency (due to the risk of pulmonary edema), mannitol should be combined with fast-acting "loop" diuretics. The control of blood pressure, diuresis, and concentration of electrolytes in the blood serum (potassium ions, sodium ions) is necessary. If a headache, vomiting, dizziness, visual impairment appears during the administration of the drug, the administration should be stopped and the development of such complications as subdural and subarachnoid hemorrhage should be excluded. It can be used in heart failure (only in combination with "loop" diuretics) and in hypertensive crisis with encephalopathy. Re-introduction of Mannit should be under the control of indicators of water and electrolyte balance of blood. There are cases of crystallization of the drug during storage at temperatures below 20 ° C.In the case of crystallization, the bottle is heated to 50 ° C-70 ° C0 to dissolve the precipitate. Used after cooling to body temperature, if the crystals do not fall out again.
Perhaps increased toxic effects of cardiac glycosides (associated with hypokalemia).
In the dark place at a temperature of no higher than 25 ° C.
Mannitol