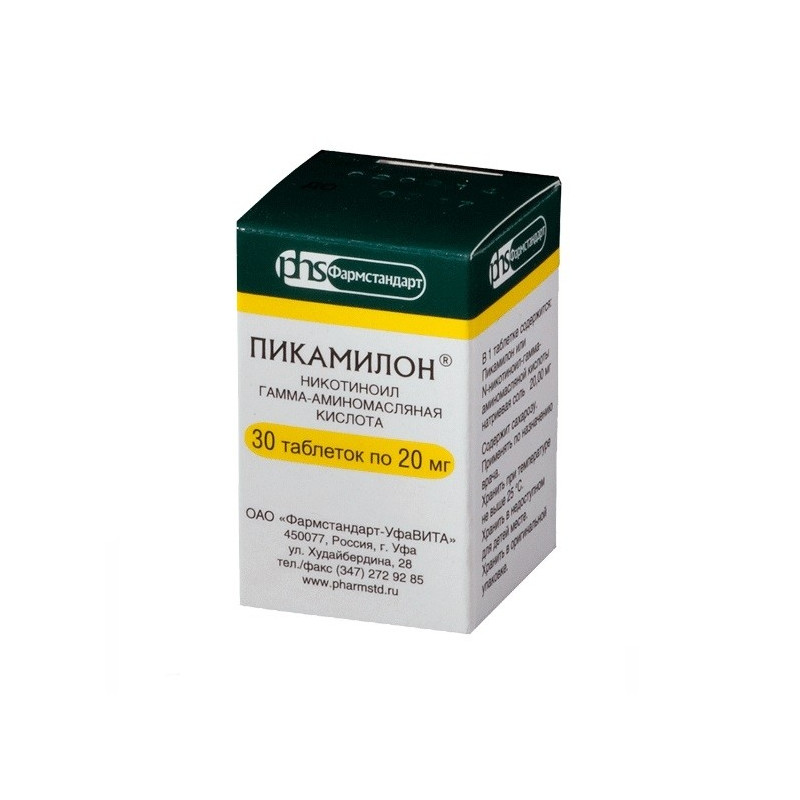  
Picamilon pills 20mg №30
All payments are encrypted via SSL

Full Refund if you haven't received your order
Composition
Pills:
1 pill contains N-nicotinoyl-gamma-aminobutyric acid sodium salt 10, 20 and 50 mg,
in the package 30 pcs.
Mechanism of action
Picamilon is a nootropic agent that dilates the vessels of the brain. It also has a tranquilizing, psychostimulant, antiplatelet and antioxidant effects. Picamilon improves the functional state of the brain due to the normalization of tissue metabolism and the effect on cerebral circulation (increases the volumetric and linear speed of cerebral blood flow, reduces the resistance of cerebral vessels, suppresses platelet aggregation, improves microcirculation).
With coursework Picamilon increases physical and mental performance, reduces headache, improves memory, normalizes sleep; helps to reduce or eliminate feelings of anxiety, tension, fear; improves the condition of patients with motor and speech disorders.
Indications and usage
Cerebrovascular insufficiency, asthenia, depressive disorders in old age.
Conditions accompanied by anxiety, fear, increased irritability, emotional lability. Asthenic conditions caused by various neuropsychiatric diseases.
In the complex treatment - for the relief of acute alcohol intoxication; in chronic alcoholism - to reduce asthenic, asthenoneurotic, postpsychotic, pre-relapse states, as well as alcoholic encephalopathy.
As part of complex therapy - migraine (prevention), TBI, neuroinfection.
Improving the tolerance of physical and mental stress (for people in tense and extreme conditions of activity; to restore physical performance of athletes, to increase resistance to physical and mental stress).
Open-angle glaucoma (to stabilize the visual function).
In urological practice (in children older than 3 years and in adults with urinary disorders) to improve the adaptive function of the bladder (reduction of detrusor hypoxia).
Picamilon is taken orally, regardless of the meal.
Daily dose - 60-150 mg.
Contraindications
Hypersensitivity, kidney disease.
Adverse reactions
Nausea, headache, dizziness, irritability, agitation, anxiety, allergic reactions (rash, itching).
At temperatures not above 25 ° C.
Shelf life - 3 years.
Picamilon