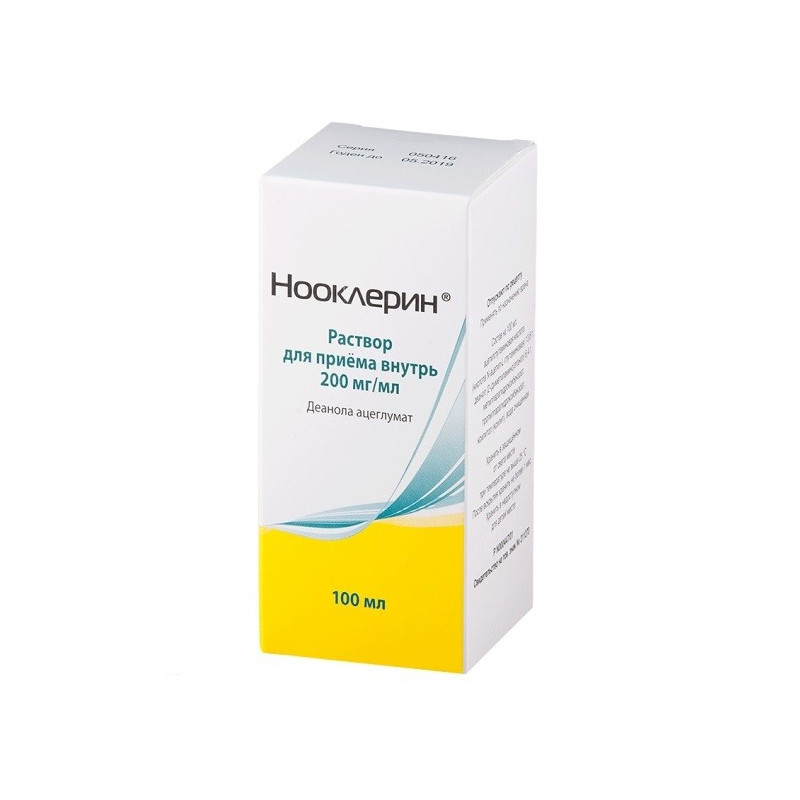  
Nooclerin solution 20% 100ml
All payments are encrypted via SSL

Full Refund if you haven't received your order
Indications and usage
Adults:
- vascular diseases of the brain (dyscirculatory encephalopathy and post-stroke disorders);
- the period of convalescence after traumatic brain injury;
- asthenic and asthenodepressive disorders, psychoorganic syndrome;
- stopping (in complex therapy) of alcohol withdrawal syndrome;
- use as a means of improving the processes of memory and attention (intellectual-mnestic functions).
Children 10 years and older:
- Border neuropsychiatric disorders of asthenic and neurotic nature, including the effects of traumatic brain injury;
- complex treatment of mental retardation.
Dosage and administration
One teaspoon of solution (5 ml) corresponds to 1 g of the active substance. For adults the drug is administered orally for 1 teaspoon 2-3 times a day, the last dose not later than 4 hours before bedtime. The maximum single dose - 2g (2 teaspoons), in special cases, it is possible to increase the dose as prescribed by the doctor (maximum daily dose of 10 g (10 teaspoons)). Therapeutic daily dose children 10-12 years old should be 0.5-1.0 g (1 / 2-1 tsp) Nooklerin, children over 12 years old - 1-2 g (1-2 teaspoons).
Duration of treatment 1.5-2 months 2-3 times a year.
Side effect
Allergic reactions, headaches, sleep disturbance, constipation, weight loss, itching,in some cases - depression (in the elderly).
Contraindications
- increased individual sensitivity to the drug;
- Infectious diseases of the central nervous system;
- febrile and psychotic states;
- diseases of the blood system;
- pronounced disorders of the liver and kidneys;
- pregnancy and lactation;
- children's age up to 10 years.
Use during pregnancy and lactation
Contraindicated in pregnancy and lactation.
Application for violations of the liver
Contraindicated in marked disorders of the liver.
Application for violations of kidney function
Contraindicated in severe renal impairment.
Use in children
Contraindicated in children up to 10 years.
special instructions
Influence on ability to drive motor transport and control mechanisms
No data available.
Overdose
In case of overdose, there is an increase in the symptoms of side effects. First aid - gastric lavage, taking activated charcoal. If necessary, symptomatic therapy.
Drug interaction
Perhaps enhancing the action of drugs that stimulate the central nervous system.
Terms and conditions of storage
List B. Keep out of the reach of children and protected from light at a temperature of 5 to 25 ° C.