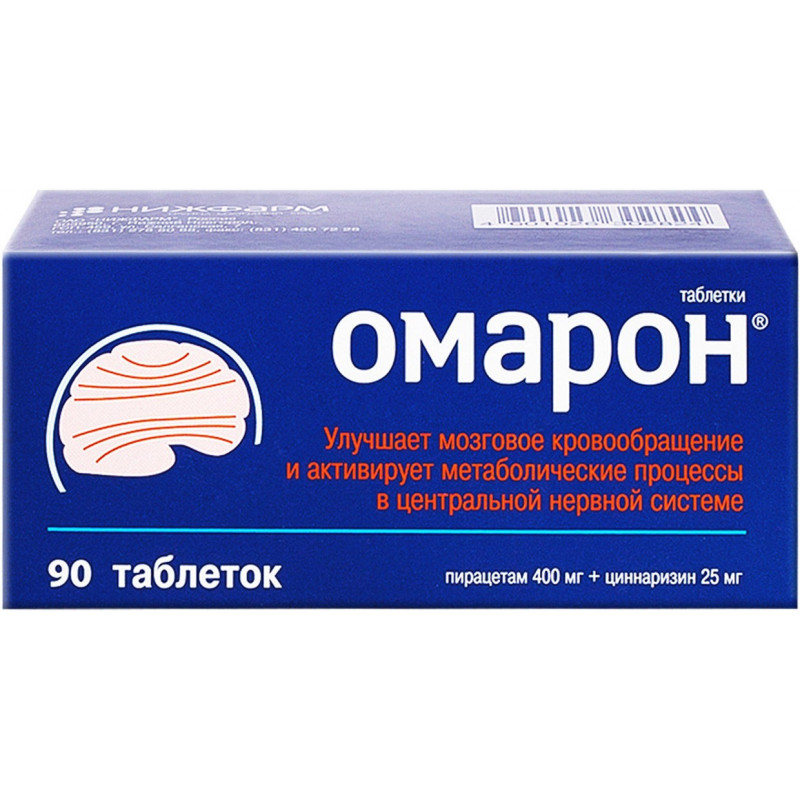  
Omaron pills №90
All payments are encrypted via SSL

Full Refund if you haven't received your order
Indications and usage
- insufficiency of cerebral circulation (including atherosclerosis of the brain, the recovery period after ischemic and hemorrhagic strokes, traumatic brain injuries);
- encephalopathy of various origins;
- intoxication;
- other diseases of the central nervous system, accompanied by a decrease in intellectual-mental functions (for example, impaired memory, attention, mood);
- psychoorganic syndrome with a predominance of signs of asthenia and adynamia;
- asthenic syndrome;
- labyrinthopathy;
- Meniere's syndrome;
- the lag of intellectual development in children;
- Prevention of migraine and kinetoz.
Contraindications
- severe abnormal liver function;
- Severe renal dysfunction;
- pregnancy;
- lactation period;
- children's age up to 5 years;
- hypersensitivity to the drug.
Pregnancy and Breastfeeding
The drug is contraindicated for use during pregnancy and lactation (breastfeeding).
Adults appoint 1-2 tab. 3 times / day for 1-3 months, depending on the severity of the disease; children - 1-2 tab. 1-2 times / day. Do not use the drug for more than 3 months.
Adverse reactions
Gastrointestinal: dyspepsia.
From the side of the central nervous system: headache, sleep disturbances.
Allergic reactions: rarely a skin rash.
Precautions should be prescribed to patients with liver and / or kidney disease. In case of renal insufficiency of mild and moderate severity, especially in case of CC and <60 ml / min, the therapeutic dose should be reduced or the intervals between intakes should be increased.
In patients with impaired liver function, monitoring of liver enzymes is necessary.
Precautions should be prescribed to patients with elevated intraocular pressure, as well as in Parkinson's disease.
Alcohol should be avoided during treatment.
Influence on ability to drive motor transport and control mechanisms
During treatment, patients should be careful when driving vehicles and working with mechanisms.
With simultaneous use with Omaron, it is possible to enhance the sedative effect of agents that inhibit the activity of the central nervous system, as well as nootropic, antihypertensive agents, ethanol.
Vasodilators enhance the effect of the drug.
Omaron® improves the tolerability of antipsychotic drugs and tricyclic antidepressants.
The drug should be stored out of the reach of children, dry, protected from light, at a temperature not exceeding 25 ° C.
2 years
Omaron