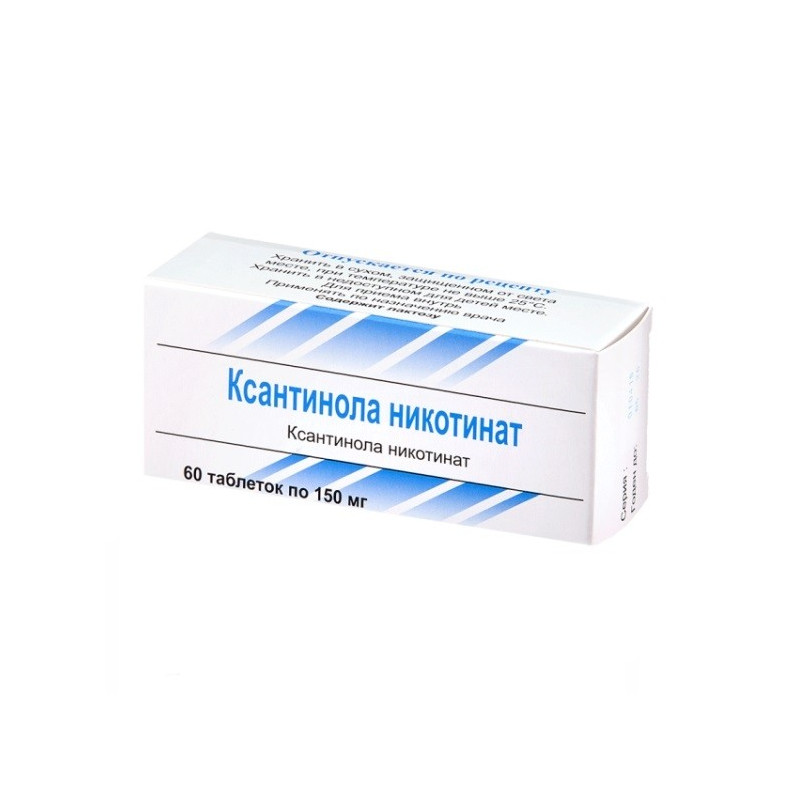  
Xantinol nicotinate pills 150mg №60
All payments are encrypted via SSL

Full Refund if you haven't received your order
Packaging
60 pcs.
60 pieces
Mechanism of action
Xantinol nicotinate - an agent that improves microcirculation; combines the properties of theophylline and nicotinic acid. It causes the expansion of peripheral vessels, improves collateral circulation, improves microcirculation, improves oxygenation and nutrition of tissues. It has an antiplatelet effect, activates the processes of fibrinolysis, improves cerebral circulation, reduces blood viscosity.
Enhances oxidative phosphorylation and ATP synthesis. By blocking adenosine receptors and PDE, it increases the content of cAMP in the cell, substrate stimulates the synthesis of NAD and NADP.
Reducing round focal disease and increasing myocardial contractions, increases the minute volume of blood and enhances cerebral circulation, reduces the severity of cerebral hypoxia.
Causes nicotine-like syndrome, accompanied by hyperesthesia of the mucous membrane of the nasal cavity and mouth: sharpens the olfactory and taste sensitivity. In this regard, the smell and taste of alcoholic beverages and dishes offered during the nicotine-like reaction is perceived more sharp and unpleasant.
With prolonged use, it has an anti-atherosclerotic effect, activates the processes of fibrinolysis, reduces the concentration of cholesterol and atherogenic lipids, increases the activity of lipoprotein lipase, reduces blood viscosity, reduces platelet aggregation.
Indications and usage
Obliterating endarteritis, atherosclerosis of the lower extremities, intermittent claudication, Raynaud's disease, diabetic angiopathy, arterial thrombosis, retinopathy, trophic ulcers of the lower extremities, atherosclerotic disorders of the cerebral circulation, migraine, Menière's syndrome, dermatosis, asthma, anestrophic syndrome, asthma, anestrophic syndrome, asthma, anesthetic therapy
Contraindications
Bleeding, myocardial infarction, congestive heart failure, gastric ulcer and duodenal ulcer, the first trimester of pregnancy.
With caution used in labile blood pressure.
With caution used simultaneously with antihypertensive drugs.
Influence on ability to drive motor transport and control mechanisms
Use with extreme caution in drivers of vehicles, as well as in patients engaged in potentially hazardous activities.
Active ingredient
1 pill contains
Active substance: xantinol nicotinate - 150 mg;
Excipients: corn starch, lactose (milk sugar), povidone (polyvinylpyrrolidone), Calcium stearate monohydrate (calcium stearate 1-water).
Dosage and Administration
The drug should be taken orally, after eating, without chewing, - 1 (if necessary, 2-4) pill 3 times a day, for 2 months.
Adverse reactions
Cardiovascular:possible decrease in blood pressure, transient sensation of heat, redness of the skin.
Gastrointestinal: rarely - nausea, diarrhea, anorexia, gastralgia; with prolonged use in high doses, it is possible to increase the level of transaminases and alkaline phosphatase.
Other: weakness, dizziness; with long-term use in high doses, a change in glucose tolerance, an increase in serum uric acid levels is possible.
Drug Interactions
With simultaneous use with drugs that have a hypotensive effect (beta-blockers, ergot alkaloids, alpha-blockers, sympatholytics, ganglioblockers), with strophanthin, a sharp increase in their action is possible.