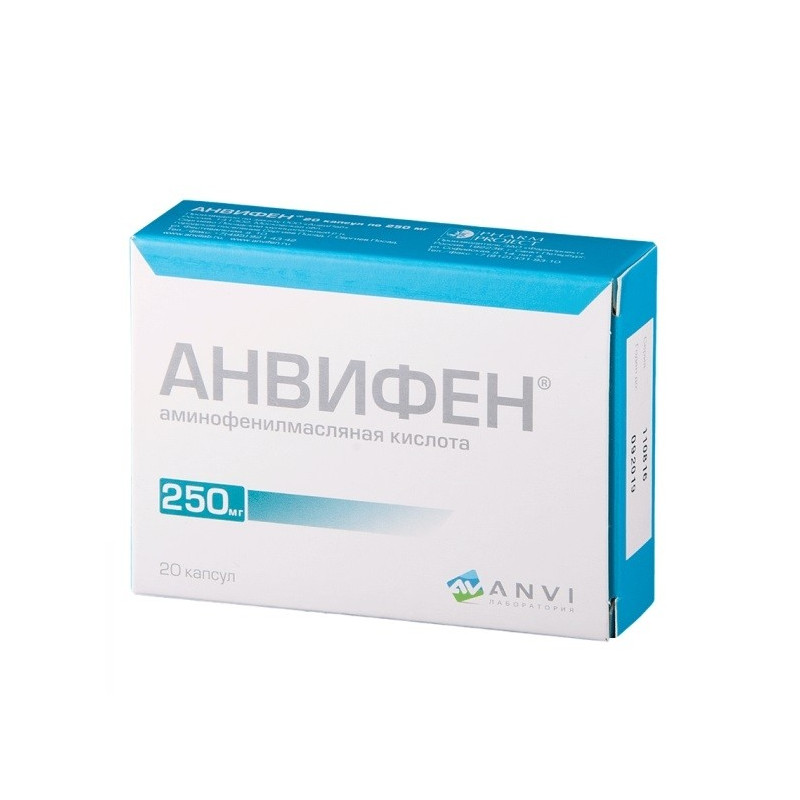  
Anvifen Capsules 250mg №20
All payments are encrypted via SSL

Full Refund if you haven't received your order
Mechanism of action
Active ingredient and dosage form
TOcapsules:
aminophenylbutyric acid hydrochloride — 25 mg or 50 mg, or 125 mg, or 250 mg;
atAuxiliary substances: hyprolosis, colloidal silicon dioxide, lactose, Magnesium stearate. Hard gelatin capsules contain: for dosage 25 mg - water, gelatin, titanium dioxide (E 171); for dosage of 50 mg - water, gelatin, azorubine dye (E 122), brilliant blue dye (E 133), quinoline yellow dye (E 104), titanium dioxide (E 171); for dosage 125 mg - water, gelatin, dye azorubine (E 122), dye brilliant blue (E 133), titanium dioxide (E 171); for dosage of 250 mg - water, gelatin, dye azorubine (E 122), dye brilliant blue (E 133), titanium dioxide (E 171);
10, 20 or 50 capsules per pack.
Pharmacology
Anvifen, a nootropic agent, facilitates GABA-mediated transmission of nerve impulses in the central nervous system (direct effect on GABA-ergic receptors). The tranquilizing effect is combined with an activating effect. It also has antiaggregant, antioxidant and some anticonvulsant action. Improves the functional state of the brain due to the normalization of its metabolism and effect on cerebral blood flow (increases volumetric and linear speed,reduces vascular resistance, improves microcirculation, has antiplatelet effect). Extends the latent period and shortens the duration and severity of nystagmus. Does not affect cholino and adrenoreceptors. Reduces vasovegetative symptoms (including headache, feeling of heaviness in the head, sleep disturbances, irritability, emotional lability). During coursework, it increases physical and mental performance (attention, memory, speed and accuracy of sensory-motor reactions). Decreases the manifestations of asthenia (improves health, increases interest and initiative (motivation of activity)) without sedation or arousal. It helps to reduce feelings of anxiety, tension and anxiety, normalizes sleep. In elderly people, it does not cause depression of the central nervous system; a muscle-relaxing after-effect is most often absent.
Indications and usage
Asthenic and anxiety-neurotic states. Stuttering, tics and enuresis in children.
Insomnia and night anxiety in the elderly. Meniere's disease, dizziness associated with dysfunctions of the vestibular analyzer of various origins; prevention of motion sickness with kinetozakh. As part of complex therapy of alcohol withdrawal syndrome for relief of psychopathological and somatovegetative disorders.
Contraindications
Hypersensitivity, pregnancy, breastfeeding, children under 3 years.With caution: in case of erosive and ulcerative lesions of the gastrointestinal tract, liver failure.
Dosage and administration
Inside after eating 2-3 week courses. Adults and children from 14 years on 250-500 mg 3 times a day (maximum daily dose of 2500 mg). Children from 3 to 8 years on 50-100 mg 3 times a day; from 8 to 14 years - 250 mg 3 times a day. A single maximum dose in adults and children from 14 years old is 750 mg, in people over 60 years old - 500 mg, in children under 8 years old - 150 mg, from 8 to 14 years old - 250 mg.
Alcohol withdrawal syndrome: 250-500 mg 3 times a day and at night 750 mg, with a gradual decrease in the daily dose to the usual for adults.
Treatment of vertigo with dysfunction of the vestibular apparatus and Meniere's disease: 250 mg 3 times a day for 14 days.
Preventing motion sickness: 250-500 mg once 1 hour before the expected start of rolling or when the first symptoms of seasickness appear. Antivifen's anti-pump action is enhanced by increasing the dose of the drug. At the onset of pronounced manifestations of seasickness (vomiting, etc.), the administration of Anvifen is ineffective, even in doses of 750-1000 mg.
Adverse reactions
Drowsiness, nausea. Increased irritability, agitation, anxiety, dizziness, headache (at the first reception), allergic reactions.
Drug interactions
Extends and enhances the effect of hypnotic drugs, narcotic analgesics, antipsychotics, anti-Parkinsonian and antiepileptic drugs.
Special notes
With prolonged use, it is necessary to periodically monitor the performance of the liver and peripheral blood. It is necessary to refrain from potentially hazardous activities that require increased concentration.
Storage conditions
In a dry, dark place at a temperature not higher than 25 ° C. Keep out of the reach of children.