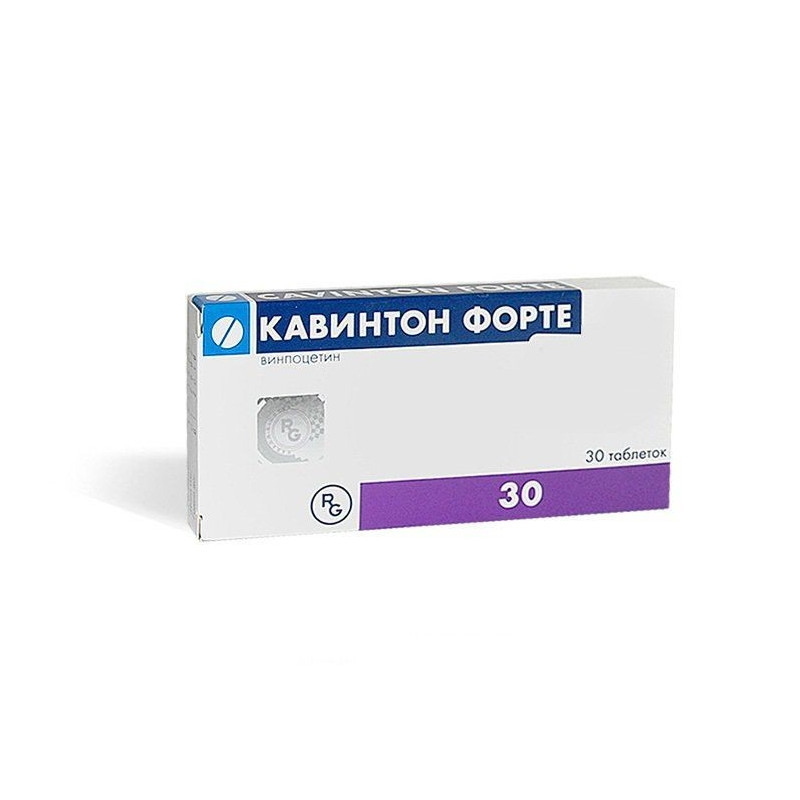  
Cavinton Forte pills 10mg №30
All payments are encrypted via SSL

Full Refund if you haven't received your order
Composition
Cavinton pills: white or almost white, flat, round pills with a facet, odorless, engraved with "CAVINTON", on one side and without engraving on the other.
1 pill contains Vinpocetine 5 mg;
Excipients: anhydrous colloidal silica, Magnesium stearate, talc, starch, lactose;
25 pcs. in a blister, 2 blisters in a carton box.
Cavinton solution for infusion concentrated: colorless or slightly greenish, clear solution.
1 vial (2 mg) contains Vinpocetine 10 mg;
Excipients: Ascorbic acid, sodium metabisulfite, tartaric acid, benzyl alcohol, sorbitol, water for injection;
in ampoules of 2 ml, in a box of 10 ampoules.
pills white or almost white, the shape of the disk with beveled edges, with the inscription "10 mg" on one side and the risk on the other.
1 pill contains vinpocetine 10 mg;
Excipients: anhydrous colloidal silica, magnesium stearate, talc, starch, lactose;
15 pieces in a blister, 2 or 6 blisters in a carton box.
Mechanism of action
Cavinton - a drug that improves cerebral circulation, cerebral metabolism and rheological properties of blood.
It has cerebroprotective effects.Reduces the severity of damaging cytotoxic reactions caused by stimulating amino acids; inhibits the functional activity of both cellular transmembrane sodium and Calcium channels, and NMDA and AMPA receptors. Potentiates the neuroprotective effect of adenosine. Stimulates brain metabolism, enhances the absorption and assimilation of glucose and oxygen by the brain. Stimulates glucose transport through the BBB, shifts glucose metabolism in an energetically more favorable aerobic direction. Selectively inhibits Ca2+-calodulin-dependent cGMP-phosphodiesterase, increases the concentration of cAMP and cGMP in brain tissues, as well as the ATP concentration and the ratio of ATP / AMP. Stimulates the cerebral metabolism of norepinephrine and serotonin, stimulates the ascending noradrenergic system, has an antioxidant effect.
The drug selectively enhances cerebral blood flow: increases the brain fraction of the minute volume; reduces the resistance of cerebral vessels, without affecting the parameters of the general blood circulation (BP, minute volume, heart rate, OPS).
Does not cause the phenomenon of "stealing"; on the contrary, when it is applied, the blood supply to the ischemic, but still viable, low-perfusion area is enhanced — the phenomenon of "reverse stealing".
It improves the tolerance of hypoxia by brain cells, facilitating the transport of oxygen to tissues due to a decrease in the affinity of red blood cells to it.
The drug improves microcirculation of the brain, inhibits platelet aggregation, reduces the pathologically increased blood viscosity, increases the deformability of red blood cells and blocks the absorption of adenosine.
Indications and usage
In neurology - acute and chronic cerebrovascular insufficiency (transient ischemia, progressive stroke, conditions after stroke, vascular dementia, atherosclerosis of the brain vessels, post-traumatic and hypertensive encephalopathy, vertebrobasilar insufficiency); mental and neurological disorders in patients with cerebrovascular insufficiency (including impaired memory, dizziness, headache, aphasia, apraxia, movement disorders).
In ophthalmology - Vascular diseases of the eye (atherosclerosis, angiospasm of the choroid and retina, degenerative diseases of the choroid, retina or macula, arterial and venous thrombosis or embolism, secondary glaucoma).
In ENT practice - decrease in hearing (vascular, toxic or age-related genesis), Meniere's disease, cochleovestibular neuritis, tinnitus, dizziness (of labyrinth origin); vasovegetative manifestations of climacteric syndrome.
Contraindications
Pregnancy; lactation; severe heart failure and cardiac arrhythmias, hypersensitivity to vinpocetine or other components of the drug.
Dosage and administration
The course of treatment and dosage are determined by the attending physician.
In most cases, take 1 pill (10 mg) 3 times a day.
Cavinton should be taken after meals.
The course is from 1 to 8 months, on average - 3-4 months. In case of drug withdrawal, Cavinton dose is reduced within 2-3 days.
Infusion Solution
The initial daily dose is 20 mg in a dilution of 500-1000 ml of solution for infusion, intravenously, slowly (drip).
The maximum dose is up to 1 mg / kg of body weight. A course of 10-21 days with the transition to oral administration of the Cavinton pill form 1-2 pills 3 times a day.
Adverse reactions
Cardiovascular: may increase the manifestations of the existing arrhythmia.
Gastrointestinal: nausea, heartburn, dry mouth.
From the side of the central nervous system: headache, dizziness, sleep disturbance, weakness.
Allergic reactions: skin rash, urticaria.
Skin reactions: hyperemia of the skin.
Special notes
Cavinton does not have a hepato-and nephrotoxic effect, therefore, when prescribing the drug to patients with liver and kidney diseases, dosing regimen adjustment is not required.
In case of lactose intolerance, it should be borne in mind that each pill contains 83 mg of lactose.
Use in pediatrics
It is not recommended to prescribe the drug to children under the age of 18 years due to the lack of experience with the use of Cavinton in this category of patients.
In hemorrhagic cerebral stroke, parenteral administration is permissible only after the disappearance of acute events (usually after 5-7 days).
Solution for injection is not recommended for intramuscular injection.
The drug increases the risk when driving a car and performing work associated with an increased risk.
The drug should be stored in a dark, out of reach of children at a temperature of 15 ° to 30 ° C.
Cavinton Forte