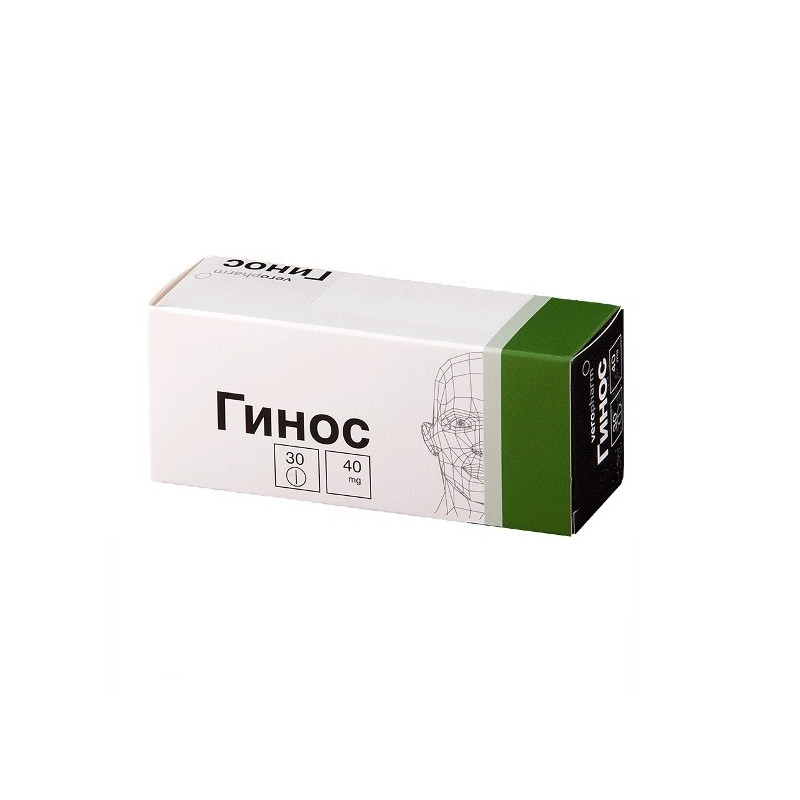  
Ginos pills 40mg №30
All payments are encrypted via SSL

Full Refund if you haven't received your order
with/Ginos
Ginos-coated tablets:
1 pill contains ginkgo bilobed leaf extract dry 40 mg; 30 and 90 pieces per pack.
Mechanism of action
Ginos is a herbal medicine that improves cerebral and peripheral circulation. The drug improves cerebral circulation, has cerebroprotective properties. It reduces the permeability of the vascular wall and reduces the swelling of tissues. Ginos normalizes cell metabolism, prevents red blood cell aggregation, and inhibits platelet aggregation. It prevents the increase of blood fibrinolytic activity, the formation of free radicals and lipid peroxidation of cell membranes. Expands small arteries, increases the tone of the veins, regulates the blood vessels. Ginos increases the body's resistance to hypoxia, especially brain tissue, inhibits the development of traumatic or toxic brain edema.
Indications and usage
dyscirculatory encephalopathy (stroke, traumatic brain injury, old age), manifested by the following symptoms: decreased attention, impaired memory, decreased mental abilities, anxiety, dizziness, tinnitus, sleep disturbances, impaired peripheral circulation and microcirculation (including.arteriopathy of the lower extremities), Raynaud's syndrome, neurosensory disturbances, manifested by dizziness, tinnitus, unstable gait.
Contraindications
hypersensitivity to the extract of Ginkgo Biloba and other components of the drug, reduced blood clotting, peptic ulcer and duodenal ulcer in the acute stage, erosive gastritis, pregnancy, breastfeeding period, children under 12 years of age.
actionI
Possible allergic reactions (skin rash, pruritus), gastrointestinal disorders (dyspepsia), headache, decreased blood clotting. There are reports of internal bleeding observed after prolonged use of drugs based on ginkgo biloba. stop and consult a doctor.
Dosage and Administration
The drug should be taken orally, without chewing, washing down with a small amount of water. Ginos taken in the morning, afternoon and evening, regardless of the meal. 1-2 tables. 3 times a day. The duration of treatment is at least 8 weeks.
Special notes
It is not recommended to take Ginos with alcoholic beverages.
Storage conditions
At a temperature not higher than 20 ° C. Shelf life 2 years.