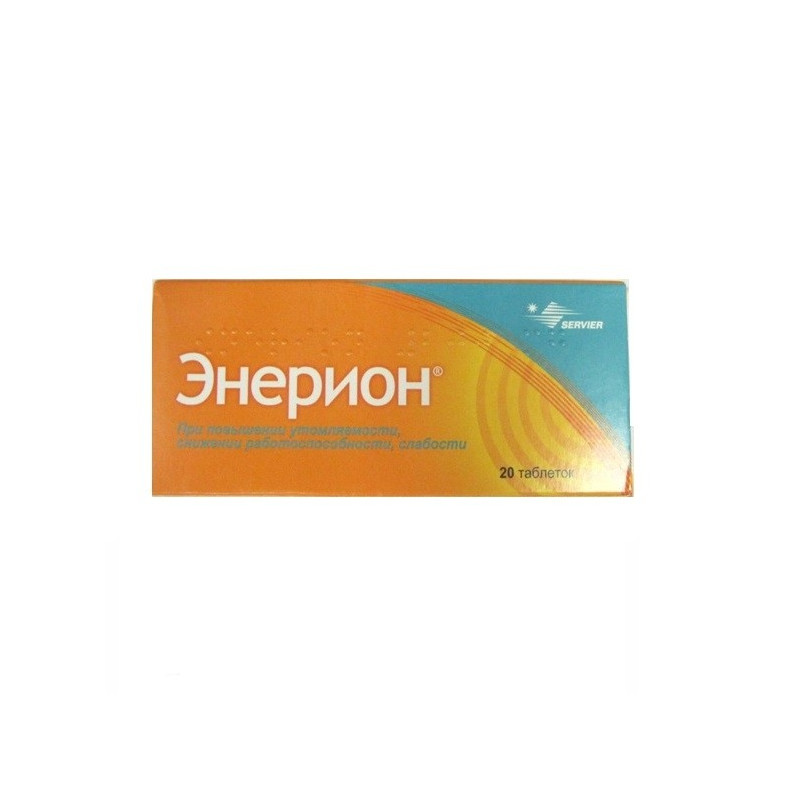  
Enerion pills coated 200mg №20
All payments are encrypted via SSL

Full Refund if you haven't received your order
/Enerion
Active ingredient and dosage form
Enerion - coated tablets:
1 tab. contains sulbutiamine 200 mg, excipients: corn starch; dried starch paste; glucose (dextrose) anhydrous; glucose monohydrate; Magnesium stearate; talc; sodium bicarbonate; sodium carboxymethylcellulose; white beeswax; titanium dioxide (E171); ethyl cellulose; yellow dye (Sunset yellow FCF, E110); glycerol monooleate; polysorbate 80; Povidone; sucrose; silicon dioxide, colloidal anhydrous (Aerosil 130); in the blister 10 pcs.; in a carton pack 2 blisters or in a blister 15 pcs.; in a pack of cardboard 4 blisters.
Mechanism of action
Enerion has a regulating metabolic processes in the CNS effect.
Indications and usage
Symptomatic treatment of functional asthenic conditions with hypo-and avitaminosis, with long-term diseases, after surgical interventions.
Contraindications
Hypersensitivity.
Pregnancy and Breastfeeding
According to the results of clinical studies, Enerion does not affect the development of the fetus. However, due to the lack of sufficient clinical data, Enerion is not recommended for use during pregnancy, as well as during breastfeeding, sinceIt is currently unknown if sulbutiamine is able to pass into breast milk.
Adverse reactions
Perhaps the development of skin allergic reactions. In rare cases, Enerion can cause mild arousal in older people.
Dosage and administration
Enerion take inside. Daily dose: 2-3 tablets. (400-600 mg) in 2 doses (during breakfast and lunch). The duration of treatment is recommended by the doctor.
Enerion can not be assigned to children.
Storage conditions
The drug should be stored out of the reach of children at a temperature not higher than 25 ° C. Shelf life - 3 years.