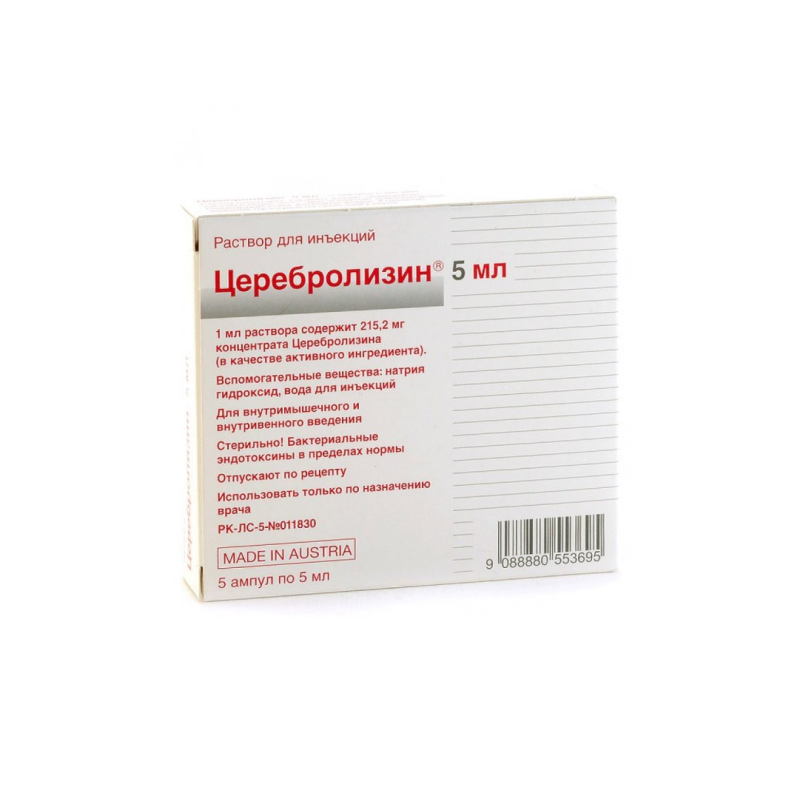  
Cerebrolysin ampoules 5ml №5
All payments are encrypted via SSL

Full Refund if you haven't received your order
Injection
Composition
1 ml of an aqueous solution for injection contains 215.2 mg of cerebrolysin concentrate (a complex of peptides derived from the pig's brain)
Packing
5 ampoules of 5 ml.
Mechanism of action
Cerebrolysin is a concentrate containing low molecular weight biologically active neuropeptides (the molecular weight of which does not exceed 10,000 daltons), which penetrate the BBB and go directly to the nerve cells. The drug has a unique organ-specific multimodal effect on the brain, which is manifested in the ability of Cerebrolysin to metabolic regulation, functional neuromodulation and neurotrophic activity, to provide neuroprotective action.
Metabolic regulation: Cerebrolysin increases the efficiency of the aerobic energy metabolism of the brain, improves intracellular protein synthesis in the developing and aging brain.
Neuroprotective effect: the drug protects neurons from the damaging effects of lactic acidosis, prevents the formation of free radicals and reduces the concentration of lipid peroxidation products in a model of ischemia - reperfusion,increases the survival rate and prevents neuronal death under conditions of hypoxia and ischemia, reduces the damaging neurotoxic effect of excitatory amino acids (glutamate); inhibits apoptosis by inhibiting palpain and caspase.
Neurotrophic and neuroimmunotrophic activity: Cerebrolysin is the only nootropic peptidergic drug with proven neuron-specific neurotrophic activity, similar to the action of natural neuronal growth factors, but manifested, in contrast, in conditions of peripheral administration. Cerebrolysin stimulates synapse formation, sprouting dendrites and prevents the activation of microglial cells and the induction of astrogliosis.
Functional neuromodulation: the drug has a positive effect on impaired cognitive functions, improves concentration, memorization and reproduction of information associated with short-term memory, increases the ability to acquire and preserve skills, activates the process of mental activity, improves mood, contributes to the formation of positive emotions, rendering thus, a modulating effect on behavior.
- ischemic stroke;
- chronic cerebrovascular disease;
- traumatic brain damage;
- mental retardation in children;
- disorders associated with attention deficit in children;
- syndromes of dementia of various genesis;
- Alzheimer's disease;
- endogenous depression resistant to antidepressants.
Contraindications
- acute renal failure;
- epileptic status.
Pregnancy and Breastfeeding
Caution should be used Cerebrolysin in the first trimester of pregnancy.
Dosage and administration
The drug is used only parenterally in the form of a / m injection (1-5 ml) or in / in drip infusions (10-60 ml). Doses and duration of treatment depend on the nature, severity of the disease, as well as the age of the patient.
The standard duration of a course of injections is 4 weeks (at least 5 injections per week, if possible, daily).
In acute conditions (ischemic stroke, traumatic brain injury, complications after neurosurgical operations) Cerebrolysin is recommended to be administered intravenously in a drip, daily, in a daily dose of 10-60 ml (in 100-250 ml of physiological solution) for 60-90 minutes. Course duration - 10-25 days.
In the residual period of stroke and traumatic brain damage the drug is prescribed in / in 5-10 ml / day for 20-30 days.
With psychoorganic syndrome and depression the drug is prescribed in the form of intravenous infusion in a daily dose of 5-10 ml for 20-25 and 10-15 days, respectively.
In neuropediatric practice - 1-2 ml (up to 1 ml per 10 kg of body weight) / m daily, for 1 month, with a repetition of the course 2-3 times a year.
With Alzheimer's disease, dementia, vascular and combined genesis The recommended doses are 20-30 ml in 100-200 ml of saline. The course of treatment is 20 infusions.
Adverse reactions
Seldom: a slight increase in body temperature (with increased individual sensitivity to the drug and in the case of a very high rate of intravenous infusion).
Precautions should be prescribed the drug for allergic diathesis, large convulsive seizures.
Drug Interactions
With the simultaneous use of Cerebrolysin and antidepressants may enhance the action of the latter.
Storage conditions
The drug should be stored in a dark place at a temperature no higher than 25 ° C.