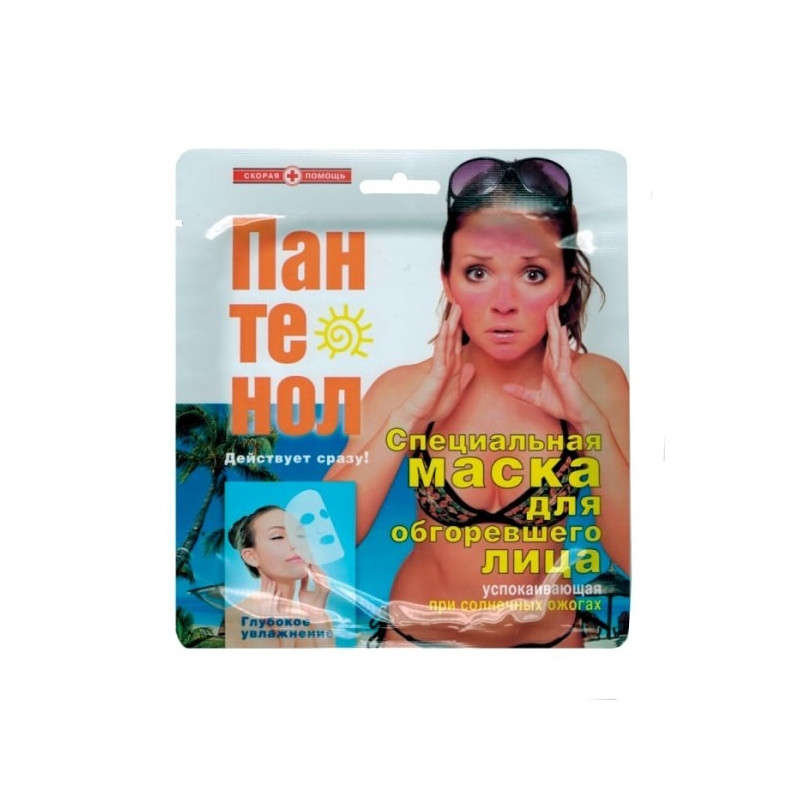  
Ambulance soothing facial mask with panthenol
All payments are encrypted via SSL

Full Refund if you haven't received your order
Description:

Moisture soothing mask with panthenol is a special cosmetic product for deep moisturizing and intensive restoration of normal water balance in the structure of the skin of a person burnt in the sun or in a tanning bed, and quickly eliminating typical manifestations after burns caused by excessive exposure to ultraviolet radiation.


Composition: 
Demineralized water (Aqua, Water), Kaprilik / Kaprik Triglyceride (Caprylic / Capric Triglyceride), D-Panthenol (Panthenol), Aloe Gel (Aloe Vera), Trideceth-6 (Trideceth-6), Phyto-Decongestive (Propylene glycol, Aqua, Alcohol, Hesperidin Methyl Chalcone, Malva Sylvestris (Mallow) Extract, Aesculus Aculeatus Root Extract, Arnica Montana Flower Extract, Phenoxyethanol, Polyhexamethylene Biguanine Hydrochloride (Polyhexamethylene Biguan, Hydrochloride (Phenoxyethanol), Polyhexamethylene Biguanine Hydrochloride (Phenoxyethanol, Hydrochloride Extract) Kernel Oil), Olive Oil (Hydrogenated Olive Oil), Glycerin (Glycerin), Polysorbate 60 (Polysorbate-60), Vitamin E (Tocopheryl Acetate), Taurine (Taurine), Urea (Urea Pura), Hydroxyethylcellulose (Hydroxyethylcellulose)


Mode of application: 
open the package, remove the mask, straighten and gently put on the face: a hole for the nose is in the center of the mask. Spread the mask over the face, from nose to edges. Put the incised parts of the mask on top, repeating the contours of the face. Leave the mask on the face for 15-20 minutes.


Precautionary measures:
for external use only. If individual sensitivity to components is detected, it is recommended to discontinue use. Do not use in case of severe inflammation and chronic skin diseases. Avoid contact with eyes, in case of contact - rinse with cool water.OPEN PACKING is to be used for NO MORE THAN 2 HOURS, the mask is intended for one-time use.
Storage conditions
Store in the manufacturer's packaging at a temperature of +5aboutC to +25 aboutWITH