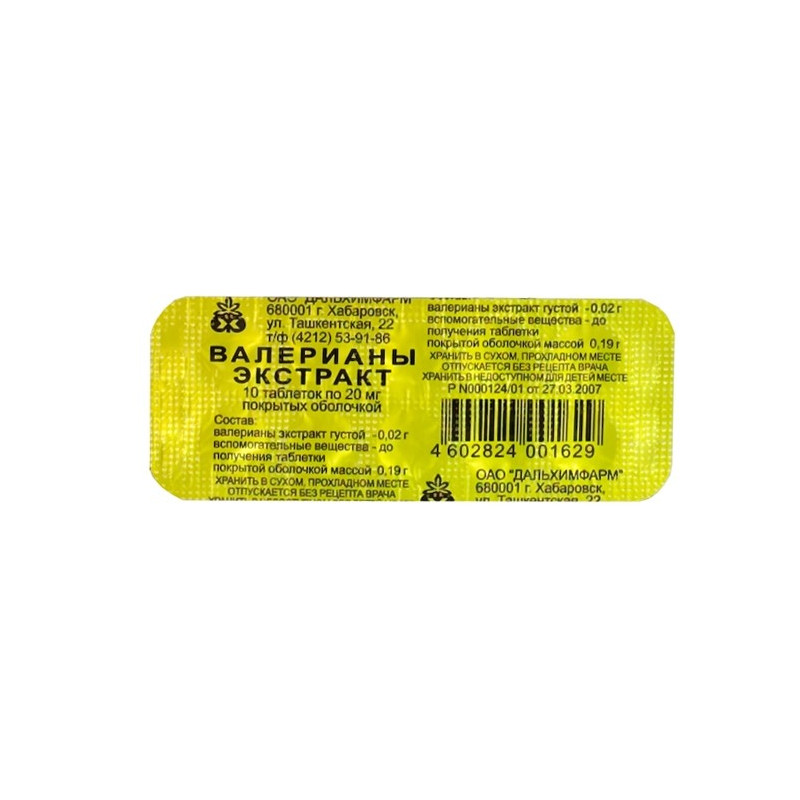  
Valerian pills 20mg №10
All payments are encrypted via SSL

Full Refund if you haven't received your order
Mechanism of action
Means of plant origin. Causes moderate sedation. The action is due to the content of the essential oil, most of which is an ester of borneol and isovalerianic acid. Valpotriates and alkaloids - valerin and hotenin also have sedative properties. Valerian facilitates the onset of natural sleep. Sedation is slow, but fairly stable. Valerian acid and valepotriaty have a weak antispasmodic effect. In addition, the complex of biologically active substances of valerian drug has a choleretic effect, enhances the secretory activity of the gastrointestinal mucosa, slows the heart rate and dilates the coronary vessels. Regulation of cardiac activity is mediated through neuroregulatory mechanisms and a direct effect on automatism and the cardiac conducting system. The therapeutic effect is manifested in the systematic and long-term course of treatment.
Indications and usage
States of arousal; sleep disorders associated with overstimulation; migraine; light functional disorders of the cardiovascular and digestive systems (usually in combination therapy).
Is ingested. The dose is determined individually, depending on the dosage form used and the patient's age.
Adverse reactions
In some cases, hypersensitivity reactions are possible. When used in high doses, possible lethargy, depression, weakness, reduced performance.
Contraindications
Hypersensitivity to valerian.
Special notes
Valerian potentiates the action of hypnotics, sedatives, antispasmodics.