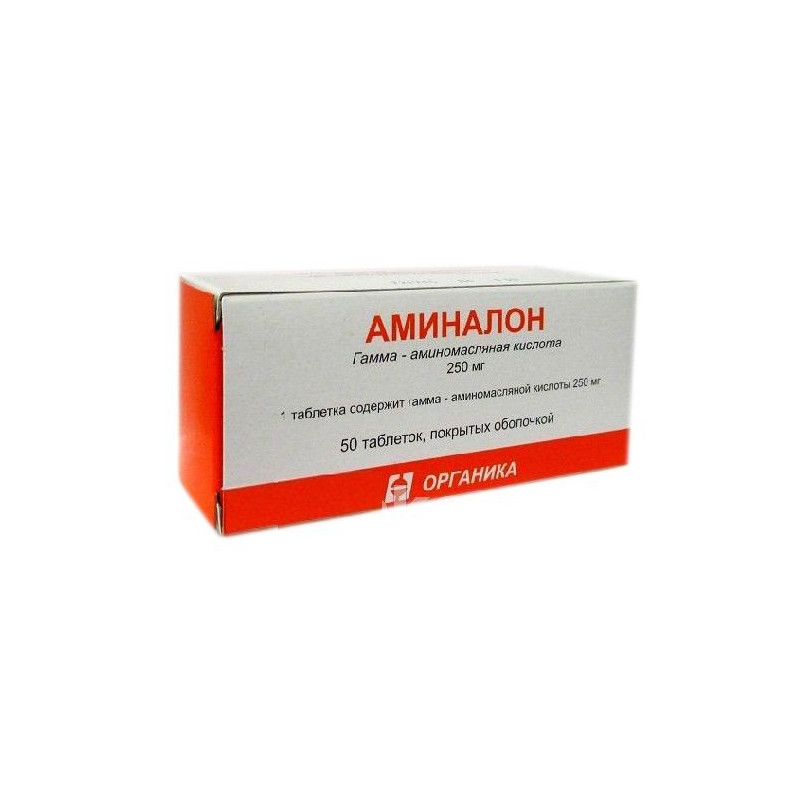  
Aminalon pills 250mg №50
All payments are encrypted via SSL

Full Refund if you haven't received your order
Release form
Coated tablets
Composition
1 pill contains:
Active ingredients
Aminalon 250 mg.
Excipients
Sugar (sucrose), Magnesium stearate.
Shell composition
Sugar (sucrose), wheat flour, magnesium carbonate basic, titanium dioxide (titanium dioxide), beeswax, paraffin, sunflower oil.
Packaging
50 tablets.
pharmachologic effect
Aminalon - nootropic agent.
It improves the metabolism of brain tissue, promotes the utilization of glucose by the brain and the removal of toxic metabolic products from it.
Increases the productivity of thinking, improves memory, has a moderate psychostimulating effect, has a positive effect on the recovery of movements and speech after a violation of cerebral circulation.
It has a slight hypotensive effect, reduces the initial high blood pressure and the severity of symptoms caused by hypertension (dizziness, insomnia), slightly decreases the heart rate.
It has a moderate antihypoxic and anticonvulsant action.
In patients with diabetes, reduces the glucose content, with normal glucose in the blood has the opposite effect (due to glycogenolysis).
Indications
Residual effects of traumatic brain injury.
Strokes
Encephalopathies of various origins.
Alcoholic polyneuropathy.
Cerebral palsy.
The consequences of birth trauma in children.
Mental retardation.
Symptom complex of motion sickness ("sea" and "air" disease).
Contraindications
Hypersensitivity.
Children's age up to 1 year.
acute renal failure.
Pregnancy (I trimester).
Lactation period.
Dosage and administration
Inside, before eating.
Daily intake for adults - 3-3.75 g.
For kids:
1-3 years old - 1-2 g / day.
4-6 years - 2-3 g / day.
Above 7 years old - 3 g / day.
The daily dose is divided into 3 doses.
The treatment is carried out for a long time (from 2-3 weeks to 2-4 months).
For the purpose of prevention and treatment of motion sickness syndrome
Adults - 0.5 g.
Children - 0.25 g.
Immediately before using vehicles or 3 times a day for 3-4 days.
Drug interaction
Enhances the action of benzodiazepines, hypnotics and antiepileptic drugs.
Overdose
Symptoms: increased severity of side effects.
Treatment: gastric lavage, taking activated charcoal, symptomatic therapy.
Storage conditions
Store in a dry, dark place at a temperature not exceeding 25 ° C.