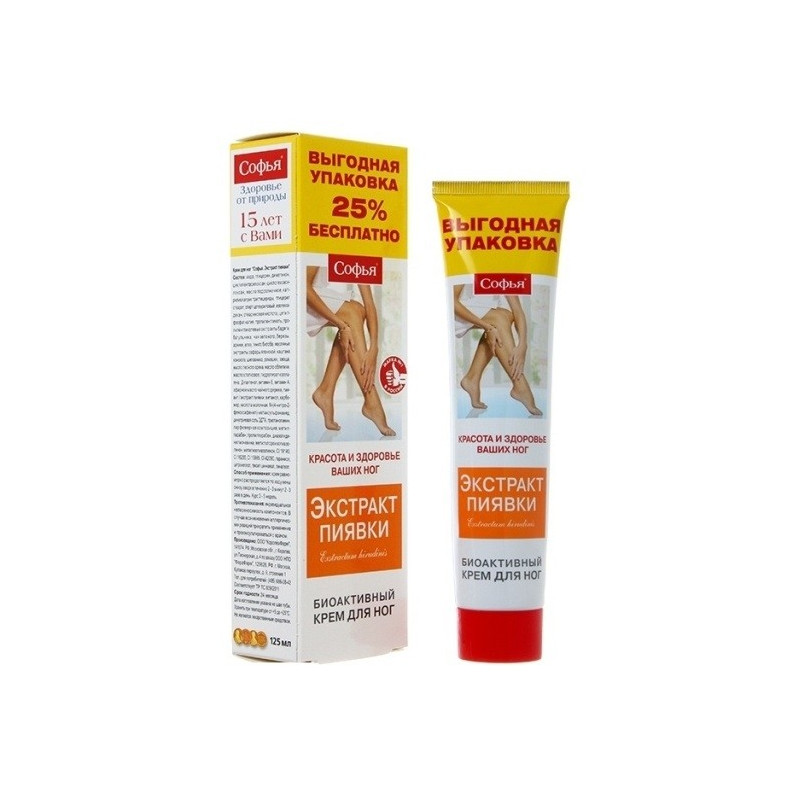  
Sophia foot cream with leech extract 125ml
All payments are encrypted via SSL

Full Refund if you haven't received your order
Effective cream of new generation for legs. Made on unique equipment from specially selected environmentally friendly components.
This recipe is a strengthened version of your favorite foot cream "Sophia". When working on the creation of the cream were taken into account all the wishes of consumers, as well as leading specialists phlebologists who conducted deep clinical trials.
Additional introduction to the composition of the extract of the medicinal leech extract allows for more intensive treatment of varicose veins, helps to successfully combat vascular spasms, increased pressure and tissue edema. By restoring impaired blood circulation and increasing blood circulation, it reduces the risk of damage to the vascular wall.
Horse chestnut extract restores hemodynamics, lowers blood clotting, strengthens the walls of capillaries and veins, prevents the formation of blood clots in blood vessels and promotes their resorption. It has a quick and lasting effect. Normalizes processes at the microcirculatory level, protects cell membranes.
It activates the protective properties of the skin, restores the functions of cells, fading with age.
Cream "Sofia" will allow you to quickly return to active life, and with regular use will help to forget about the illness for a long time. The effectiveness of the cream is confirmed by clinical trials.
Composition
Water, emulsion wax, vegetable oils: corn, olive, palm, oil extracts: wheat germ, chamomile, rosehip, nettle, burdock, horse chestnut, succession, fucus, hydroalcoholic extracts: horsetail, hazelnut, aloe vera, vitamin A and E, D - pantheol, collagen hydrolyzate, DEG stearate, lanolin, pyavit, kemaben, vitanol, preservatives.
Indications for use
In the complex treatment of disorders of the peripheral blood circulation at the level of macro and micro circulation, in combination with traditional methods of treatment, as an auxiliary means: superficial phlebitis of the extremities (inflammation of the veins), post-injection phlebitis.
Varicose veins of the lower extremities, hemorrhoidal veins. Chronic venous insufficiency (fatigue in the legs, heaviness, tension, pain in the calf muscles, swelling of the legs, cramps).
Chronic postthrombotic syndrome. Trophic ulcers of the leg. Vascular sprockets, thrombophlebitis of the superficial veins.
Contraindications
No side effects have been identified. Contraindication is individual intolerance to the components of the cream.