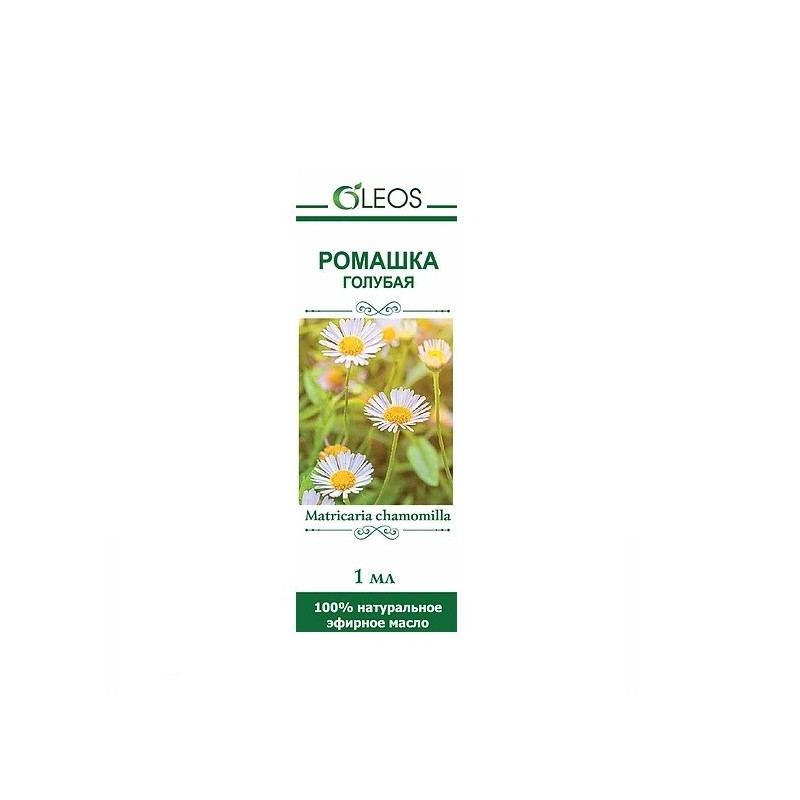  
Chamomile oil 1ml
All payments are encrypted via SSL

Full Refund if you haven't received your order
Description
Contraindications
Despite the fact that chamomile oil is considered one of the softest and most gentle among all essential oils, it has significant limitations on its use. The main precautions are related to the use of chamomile during pregnancy, which is better to refuse because of the active influence on the female body at least during the first months.
Chamomile oil is absolutely incompatible with homeopathic remedies, therefore simultaneous use is also impossible. Irritant, phototoxic or other unpleasant effects on the skin of chamomile drug is not. It is one of those essential oils that can be applied to areas of inflammation and in its pure form.
Blue chamomile oil is used in all methods of aromatherapy, while the recommended dosages are:
1 drop for ingestion 2 times a day with dried apricots or 2-3 times with jam or honey, washed down with kefir, juice or warm tea (taking 1 drop each can be replaced by mixing 4-6 drops of butter with 100 ml of sweet sauce, jam or honey, followed by taking 1 tsp mixture (up to 4 times a day);
no more than 1-2 drops for hot or cold inhalations, while the procedure time is better to limit the maximum 7 minutes;
from 4 to 7 drops for aromatic baths, both common and sedentary, and about 3-4 drops for foot baths;
from 2 to 4 drops for flavoring the air in a bath or sauna, for microclysters (for a tablespoon of oil from wheat germ or a hunting base);
2 to 3 drops for rinsing, diluting the oil in honey or soda and then mixing with a glass of warmed but not too hot water;
3 to 7 drops for massage or rubbing, diluted in 10 ml of base;
from 15 to 20 drops of chamomile oil mixed with a double dose of wheat germ oil; St. John's wort or black cumin for warm compresses and applications;
3-4 drops of chamomile oil, diluted in two teaspoons of preservative oil as nasal drops (3 drops every hour), and in the same dosage for aromampi douching (per cup of warm water when dissolved in soda);
pure oil in the right amount for applications;
3 drops of chamomile oil per 50 g of vodka for a refreshing and deodorizing lotion.
Cosmetic action:
Anti-inflammatory, regenerating, rejuvenating.It is used to treat hair with dandruff, alopecia: stimulates growth, nourishes and restores hair, restoring its strength and shine. Effectively with acne, herpes, neurodermatitis, climatic and atopic dermatitis, cheilitis, angulitis. Soothes, cools dry, capricious, tired skin, relieves irritation, rash, exacerbation of eczema, suitable for daily care. One of the most effective means of felon.

Relieves irritability, anxiety, fears, failure expectation syndrome. Sedative remedy, helps with insomnia, stress, loss of strength.