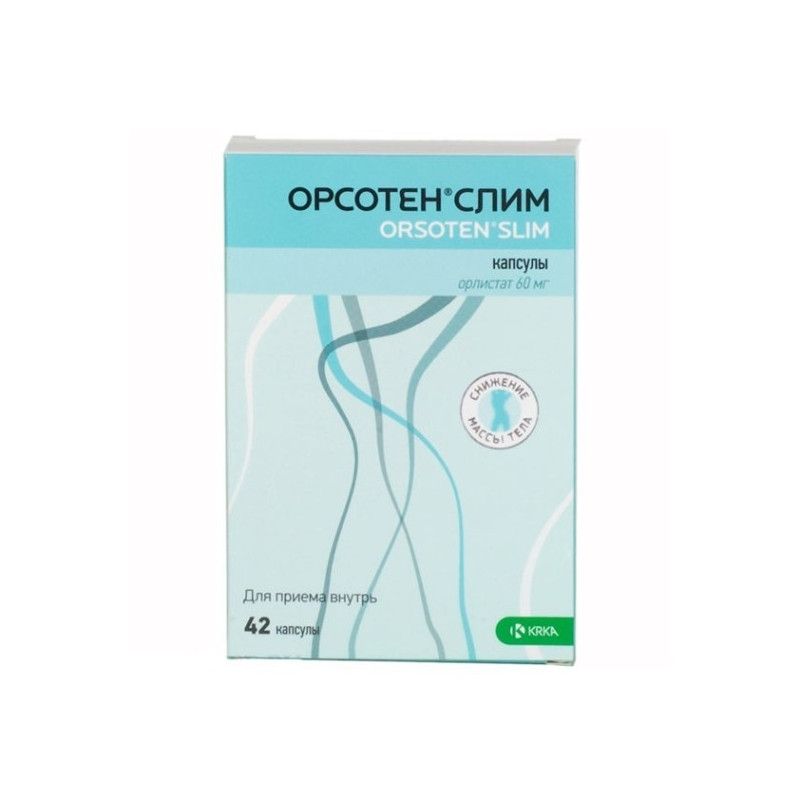  
Orsoten capsules 60mg №42
All payments are encrypted via SSL

Full Refund if you haven't received your order
The composition of one capsule:
Orsoten semi-finished product - granules 112.8 mg (in terms of orlistat 60 mg).
[excipient of semi-finished product - microcrystalline cellulose granules]
Hard gelatin capsules No. 3. The body of the capsule is white, the lid of the capsule is light yellow. The contents of the capsules are microgranules or a mixture of powder and microgranules of white or almost white color. The presence of compacted agglomerates, easily crumbling under pressure.
Therapeutic indications
 Reduced body weight in adults (over 18) with overweight (BMI ≥ 28 kg / m2).
It is used only in combination with a moderate, low-fat, low-fat diet.
Dosage and administration
Inside, on 1 capsule (60 mg) three times a day, washing down with water, immediately before, during or within 1 h after each meal.
If the meal is skipped or food does not contain fat, the use of orlistat should be skipped.
Within 24 hours you can take no more than three capsules of 60 mg of the drug Orsoten® Slim.
The course of treatment should not exceed 6 months.
If after 12 weeks of use of the drug Orsoten® Slim, there is no reduction in body weight (no more than 5% of the initial weight), the patient should consult with a physician to decide whether to continue using it.
Diet and exercise are an important component of a weight loss program.It is recommended to start a diet program and exercise before starting therapy with Orsoten® Slim.
During the use of the drug Orsoten®, the patient should receive a moderately low-calorie diet with a balanced nutrient content, in which approximately 30% are fat (for example, when the caloric content is 2000 kcal per day, the food should contain no more than 67 grams of fat). Daily intake of fat, carbohydrates and protein should be distributed between the three main meals. The program of diet and exercise should be continued after the use of the drug Orsoten® Slim will be discontinued.
Data on the use of orlistat in the elderly is limited.
The effects of orlistat in individuals with impaired liver and / or kidney function have not been studied, but given that absorption of orlistat is minimal, dose adjustment in the elderly and in people with impaired liver and / or kidney function is not required.
Contraindications
Hypersensitivity to orlistat or to any of the components of the drug;
Glucose-galactose malabsorption syndrome;
Cholestasis;
Concomitant therapy with cyclosporin;
Pregnancy, breastfeeding period;
Age up to 18 years.
Special instructions and precautionary measures
 Patients should indicate the need to adhere to the recommendations they received on diet. The likelihood of side effects from the gastrointestinal tract is higher in the event that a single meal or diet is generally characterized by a high fat content.
Treatment with Orsoten® Slim may result in impaired absorption of fat-soluble Vitamins (A, D, E and K).For this reason, multivitamins should be taken at bedtime.
Since a decrease in body weight may be accompanied by an improvement in metabolic control in patients with diabetes mellitus, those who receive hypoglycemic drugs should consult with a doctor before using the drug Orsoten® Slim and, if necessary, correct the dose of hypoglycemic agents.
A decrease in body weight may be accompanied by an improvement in blood pressure and a decrease in cholesterol concentration. Patients taking drugs for hypertension or hypercholesterolemia, when using the drug Orsoten® Slim should consult with your doctor and, if necessary, correct the dose of these drugs.
Patients taking Amiodarone, before starting treatment with Orsoten® Slim, should consult a doctor.
In patients using orlistat, cases of rectal bleeding are described. If this phenomenon occurs, the patient should consult a doctor.
The use of an additional contraceptive method is recommended to prevent the possible ineffectiveness of oral contraceptives in the event of severe diarrhea.
Interaction with other drugs
Cyclosporine
With simultaneous use of cyclosporine and orlistat, a decrease in plasma concentration of cyclosporin is observed, which may be accompanied by a decrease in its immunosuppressive activity.
The simultaneous use of Orsoten and cyclosporine is contraindicated.
Oral anticoagulants
With the simultaneous use of Warfarin or other oral anticoagulants and orlistat, a change in the value of the International Normalized Relationship (INR) may occur.
Fat soluble vitamins
The use of orlistat may impair the absorption of fat-soluble vitamins (A, D, E and K).
Acarbose
Due to the lack of data on pharmacokinetic interactions, it is not recommended to use orlistat simultaneously with acarbose.
Amiodarone
With simultaneous use with orlistat, a decrease in plasma concentration of amiodarone was noted after a single use. The clinical significance of this effect for patients taking amiodarone is unclear. The simultaneous use of orlistat and amiodarone is possible only on the recommendation of a physician.
Orlistat does not interact with Amitriptyline, phenytoin, Fluoxetine, sibutramine, phentermine; Atorvastatin, pravastatin, fibrates; biguanides; Digoxin, Nifedipine, Losartan; oral contraceptives and ethanol.
Pregnancy and breastfeeding
There are no clinical data on the use of orlistat during pregnancy, so the drug Orsoten® Slim should not be used during pregnancy.
Since it is not known whether orlistat is excreted into breast milk, Orsoten® Slim should not be used during breastfeeding.
Influence on ability to drive a car and other mechanisms
The drug Orsoten® Slim does not affect the control of vehicles and work with technical devices that require high concentration of attention and speed of psychomotor reactions.
Side effects
Classification of the incidence of side effects (WHO):
very often> 1/10
often from> 1/100 to <1/10
infrequently from> 1/1000 to <1/100
rarely from> 1/10000 to <1/1000
very rarely from <1/10000, including individual messages.
Adverse reactions when using orlistat are usually gastrointestinal in nature and are associated with its pharmacological action.
Gastrointestinal:
very often: oily discharge from the rectum, gas with a certain amount of discharge, imperative urge to defecate, steatorrhea;
often: abdominal pain, fecal incontinence, loose stools, increased bowel movement.
The following adverse reactions were noted during the post-marketing use of orlistat (frequency unknown):
Hemic and lymphatic: decrease in the concentration of prothrombin; an increase in the rate of the International Normalized Ratio (INR) in patients taking orlistat concurrently with anticoagulants.
Gastrointestinal: small rectal bleeding, diverticulitis, hepatitis, cholelithiasis, increased activity of "liver" transaminases and alkaline phosphatase.
From the skin: bullous rash.
Allergic reactions: itching, rash, urticaria, angioedema, bronchospasm, anaphylaxis.
Overdose
When using orlistat at a dose of 800 mg once and at a dose of up to 400 mg three times a day, daily, for 15 days, both in patients with normal body weight and in patients with obesity, no significant adverse reactions have been identified. When using orlistat 240 mg three times a day for 6 months, an increase in the incidence of adverse reactions was not observed.
Most reports of an overdose of orlistat during the post-marketing period either lack specific information about undesirable reactions or describe undesirable reactions that do not differ from those observed when using the recommended doses of orlistat.
In case of overdose, consult a doctor. With a significant overdose of orlistat, it is recommended to monitor the patient for 24 hours. Based on data from studies on humans and animals, all systemic effects of orlistat due to lipase inhibition are usually quickly reversible.
Pharmacodynamics
Pharmacotherapeutic group: gastrointestinal lipase inhibitor
Pharmacological properties.
Orlistat is a specific, long-acting inhibitor of gastrointestinal lipases. Its therapeutic activity is realized in the lumen of the stomach and small intestine and consists in the formation of a covalent bond with the active serine portion of the gastric and pancreatic lipases.An enzyme thus inactivated loses the ability to hydrolyze edible fat in the form of triglycerides to absorb free fatty acids and monoglycerides. Undigested triglycerides are not absorbed, and the resulting calorie deficit can have a positive effect on weight control. Orlistat at a dose of 60 mg three times a day blocks the absorption of approximately 25% of edible fat. The therapeutic effect of orlistat is realized without its systemic absorption. The effect of orlistat leads to the fact that the concentration of fat in the intestinal contents increases already after 24-48 hours after its oral administration. After the withdrawal of orlistat, the concentration of fat in the intestinal contents usually returns to baseline after 48-72 hours.
In adults with a BMI (body mass index) ≥ 28 kg / m2, orlistat at a dose of 60 mg three times a day is effective in combination with a low-fat, low-calorie diet. In this case, the main loss of body weight occurs during the first 6 months of treatment.
The decrease in body weight, due to the use of orlistat at a dose of 60 mg three times a day, is accompanied by another beneficial effect: a decrease in the concentration of total cholesterol, LDL cholesterol (low density lipoproteins), and a decrease in waist circumference.
Pharmacokinetics
 Suction
Studies in volunteers with normal and increased body weight showed that the degree of absorption of orlistat is minimal.The concentration of unchanged orlistat in the blood plasma is below the limit of quantitative determination (below 5 ng / ml) 8 hours after oral administration of orlistat in a dose of 360 mg. In general, when using therapeutic doses, the determination of unchanged orlistat in plasma is sporadic, and its concentration is extremely low (less than 10 ng / ml or 0.02 µmol / l), and there are no signs of cumulation, which indicates a minimum degree of absorption.
Distribution
The volume of distribution cannot be determined, since orlistat is minimally absorbed and has no established systemic pharmacokinetics. Orlistat is more than 99% bound to plasma proteins (mainly lipoproteins and albumin). Orlistat can minimally penetrate red blood cells.
Metabolism
Metabolism of orlistat occurs mainly in the walls of the stomach and small intestine.
Removal
Approximately 97% of the dose is excreted through the intestines, 83% of this amount is in the form of unchanged orlistat. Cumulative excretion by the kidneys of all orlistat-containing substances is less than 2% of the dose taken. The time to complete excretion (through the intestines and the kidneys) is from 3 to 5 days.
List of excipients
Excipients: microcrystalline cellulose 22.20 mg.
Hard gelatin capsules number 3:
Capsule Body: Titanium Dioxide (E 171) 0.58 mg, gelatin 28.22 mg
Cap Cap: Titanium dioxide (E 171) 0.19 mg, iron oxide yellow (E172) 0.04 mg, gelatin 18.97 mg
Shelf life
3 years.
Storage conditions
Store at a temperature not exceeding 25 ° C in the original packaging. Keep out of the reach of children.