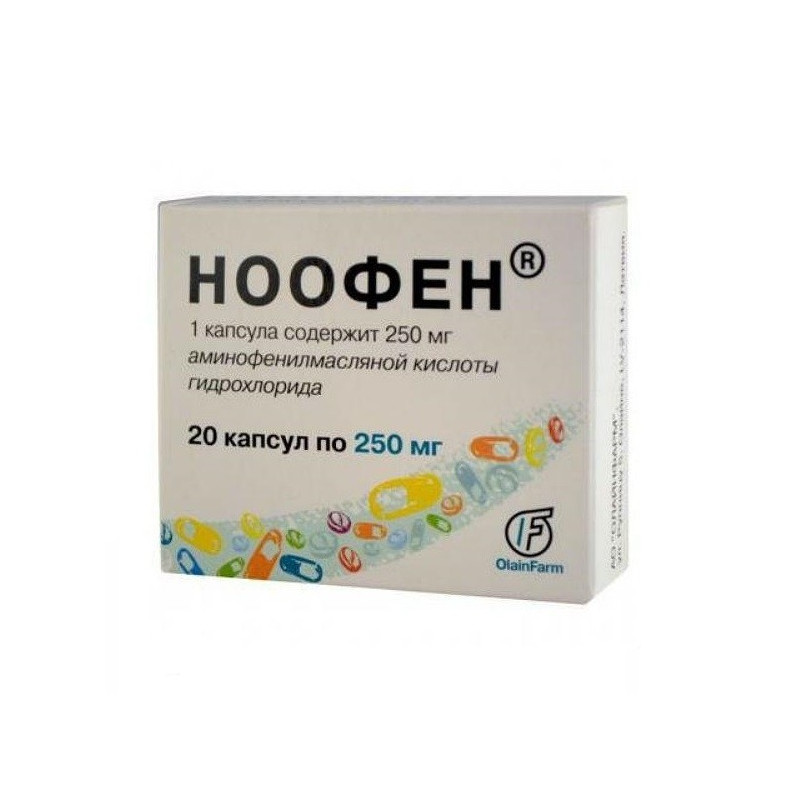  
Noofen capsules 250mg №20
All payments are encrypted via SSL

Full Refund if you haven't received your order
Packaging
20 pcs.
Mechanism of action
Noofen is a derivative of γ-aminobutyric acid and phenylethylamine (γ-amino-β-phenylbutyric acid hydrochloride). Dominant is its antihypoxic and antiamnesic effect. It has tranquilizing properties, stimulates memory and learning, increases physical performance; eliminates psycho-emotional tension, anxiety, fear and improves sleep; prolongs and enhances the effect of hypnotic, narcotic, neuroleptic and anticonvulsant drugs. Does not affect the cholino and adrenoreceptors. The drug prolongs the latent period and shortens the duration and severity of nystagmus, has anti-epileptic effect. Visibly reduces the manifestations of asthenia and vasic-vegetative symptoms, including headache, feeling of heaviness in the head, sleep disturbance, irritability, emotional lability, improves mental performance. Indicators of higher nervous activity (attention, memory, speed and accuracy of sensory-motor reactions) under the influence of Noofen improve, unlike tranquilizers. In patients with asthenia and emotionally labile patients, already from the first days of drug therapy, their well-being improves, interest and initiative, motivation to be active without a sedative effect or arousal increase.In the case of application after traumatic brain injury, Noofen increases the number of mitochondria in the cells of perifocal tissues and improves the bioenergetics of the brain. In the presence of disorders of the heart and stomach, it normalizes the processes of the FLOOR. The use of Noofen in the post-traumatic period increases the number of mitochondria and improves the bioenergetic processes of the brain.
Indications and usage
Decreased intellectual and emotional activity, impaired memory, decreased concentration. Asthenic and anxiety-neurotic states, anxiety, fear, anxiety, obsessive-compulsive disorders, psychopathy; children have stuttering, enuresis, tic; in older people - insomnia, night anxiety. Assign for the prevention of stress conditions, before surgery or painful diagnostic studies. Noofen is used as an adjunct in the treatment of alcoholism for the relief of psychopathological and somatovegetative disorders in withdrawal syndrome. The drug can be used in conjunction with conventional detoxification agents for the treatment of alcoholic prosliiotic and delirious states. It is also prescribed for Meniere's disease, dizziness associated with dysfunction of the vestibular apparatus, for the prevention of motion sickness. It is used in the complex treatment of women with osteochondrosis of the cervico-thoracic spine and menopausal disorders.
Contraindications
Hypersensitivity to the drug.
Dosage and administration
Inside to the food. The course of treatment is 4-6 weeks. Adults appoint 250-500 mg 3 times a day. If necessary, the daily dose is increased to 2.5 g. Children under the age of 3-4 years are prescribed 100 mg 2 times a day, 5-6 years - 100 mg 2-3 times a day, 7-10 years - 100 mg 3-4 times a day, 11-14 years, 200 mg 2-3 times a day. Children over 14 years old - doses for adults. Higher single doses: for adults - 750 mg, for persons over 60 years old - 500 mg, for children under 6 years old - 100 mg, for 7–10 years - 200 mg, for 11–14 years - 300 mg. Noofen can be combined with other psychotropic drugs, this increases its effectiveness, while it is possible to reduce the dose of Noofen and other simultaneously used drugs.
Adverse reactions
After the first dose of the drug or overdose, drowsiness and nausea are possible.
Special notes
Caution should be exercised in the appointment of patients with pathology of the digestive tract due to the irritating action of Noofen. This patient is prescribed the drug in reduced doses. With prolonged use, control the cellular composition of blood, the performance of functional liver samples.
Use during pregnancy is undesirable, as there are no sufficient observations confirming its safety.
Patients with drowsiness, dizziness or other disorders of the central nervous system, during treatment can not drive vehicles or maintain potentially dangerous mechanisms.
Overdosage
Noofen has low toxicity, only in a daily dose of 7–14 g with long-term use it can have a hepatotoxic effect. The indicated doses considerably exceed the recommended (the average therapeutic daily dose is 0.75–2.5 g). Only in the highest dose applied, eosinophilia and fatty liver dystrophy were sometimes observed. At low doses, there were no such changes. In the clinical picture, an overdose is dominated by drowsiness, nausea, vomiting, hypotension and renal failure may develop. In case of poisoning, gastric lavage is performed, Activated carbon is prescribed, supportive and symptomatic therapy is performed.
In a dry, dark place at a temperature of 15-25 ° C.