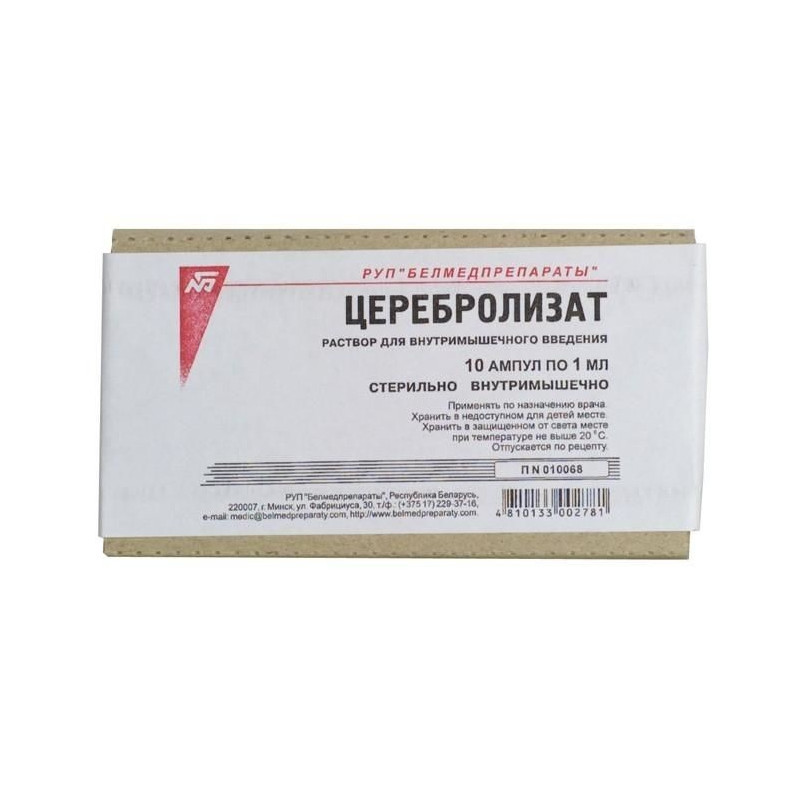  
Cerebrolysate ampoule 1ml №10
All payments are encrypted via SSL

Full Refund if you haven't received your order
Cerebrolysate/Cerebrolysatum
Composition and release form
Cerebrolysate - hydrolyzed brain of cattle, containing free amino acids and peptides, in the form of a solution for injection in 1 ml ampoules; in a blister pack 5 ampoules in a carton pack 2 or 10 packs.
pharmachologic effect
Cerebrolysate has a nootropic effect. Enhances the synthesis of proteins in neurons, increases the resistance of the brain to hypoxia, intoxication, hypoglycemia.
Indications
Dysfunction of the cerebral cortex in case of insufficiency of cerebral circulation, dyscirculatory encephalopathy, post-traumatic, asthenic syndrome.
Contraindications
Hypersensitivity, marked impaired renal function, status epilepticus, pregnancy.
Side effects
Increased blood pressure (in patients with hypertension), in some cases - a slight increase in body temperature, irritation at the injection site.
Dosage and administration
Cerebrolysate administered in / m, 1-5 ml every day or every other day; the course of treatment is 20-30 injections, it is possible to conduct 2-3 courses per year with an interval of 3-6 months.
Storage conditions and shelf life
In the dark place at a temperature of 2-25 ° C. Shelf life - 3 years.