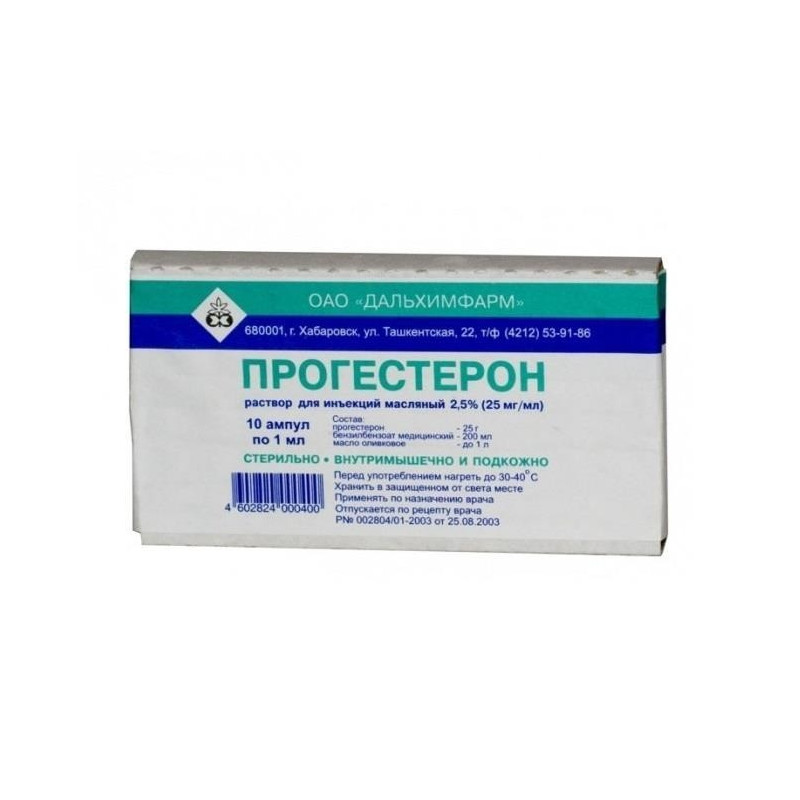  
Progesterone Ampoule 2.5% 1ml №10
All payments are encrypted via SSL

Full Refund if you haven't received your order
Active ingredient and dosage form
Progesterone - injection solution:
1 ampoule with 1 ml solution for injection in olive or peach oil contains progesterone 0.01 or 0.025 g; in the package 10 pcs.
Mechanism of action
Progestin Hormone yellow body. Causes the transition of the mucous membrane of the uterus from the phase of proliferation caused by follicular hormone to the secretory phase, and after fertilization contributes to its transition to the state necessary for the development of a fertilized egg. Reduces the excitability and contractility of the muscles of the uterus and fallopian tubes, stimulates the development of the terminal elements of the mammary gland. Does not possess androgenic activity. Progesterone has a weak effect on protein metabolism, contributes to the deposition of fat and the accumulation of glucose in the liver, and also reduces the reabsorption of sodium in the renal tubules.
Progesterone has a blocking effect on the secretion of hypothalamic factors releasing LH and FSH, inhibits the formation of gonadotropic hormones in the pituitary gland and inhibits ovulation.
Dysfunctional uterine bleeding, metrorrhagia, amenorrhea, habitual miscarriage. Contraception.
Dosage and administration
Progesterone is injected into the / m, adults, the highest single dose of 0.025 g (2.5 ml of 1% or 1 ml of 2.5% p-ra).
Adverse reactions
Cardiovascular: increased blood pressure.
Metabolism: swelling.
On the part of the digestive system: abnormal liver function, jaundice; rarely (with prolonged use) - nausea, vomiting.
On the part of the endocrine system: rarely (with prolonged use) - decreased libido, weight gain, pain and tension in the mammary glands, irregular uterine bleeding.
From the side of the central nervous system: rarely (with prolonged use) - headache, depression.
Contraindications
Severe dysfunction of the liver or kidneys, hepatitis, thromboembolic diseases, vaginal bleeding of not established genesis, carcinoma of the mammary gland (except in cases in which progesterone is used as part of a combination therapy of this disease).
Pregnancy and Breastfeeding
In cases of extreme necessity, it is possible to use Progesterone during pregnancy with established deficiency of hormones of the corpus luteum.
Progesterone is not used in women planning a pregnancy in the near future.
Special notes
Progesterone is used with caution in patients with cardiovascular diseases, abnormal liver or kidney function, diabetes, asthma, epilepsy, migraine, depression.
Storage conditions
At temperatures not above 25 ° C. Shelf life - 5 years.